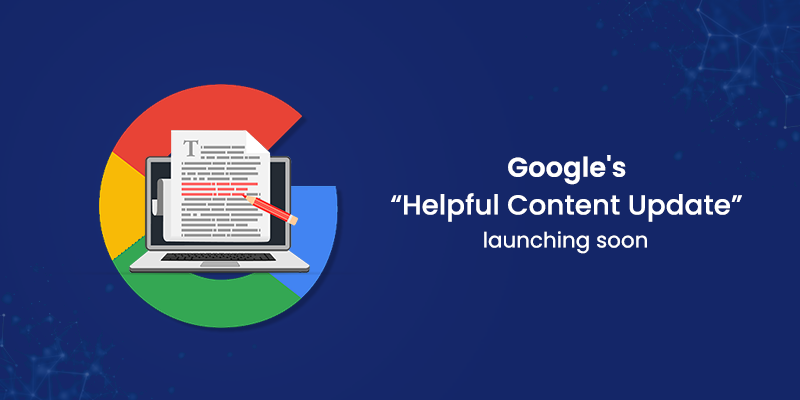 Businesses that connect well with their customers always sell better.
Establishing a connection with a potential customer lies at the foundation of any business as it helps cultivate trust over time and eventually leads to a business's success. Content has been the easiest way to connect with a potential consumer. Especially in this digital age, where we witness gazillions of start-ups establishing their name, your content game needs to one-up users' expectations. After all, with businesses thriving, users' expectations are leveling up too.
For that matter, Google has always stressed meaningful content for its searchers. Getting valuable information for their queries is what brings people to Google! Hence, its algorithms only get more stringent to ensure the quality of your content. Further, you not only need to be unique but also authentic while delivering content. Focusing on this aspect, Google announced a new update – a 'helpful content update' on August 18, 2022.
The search giant also took to Twitter to announce the forthcoming broad core rollout. "Next week, we will launch the "helpful content update" to better ensure people see more original, helpful content written by people, for people, rather than content made primarily for search engine traffic." – The tweet read.
Next week, we will launch the "helpful content update" to better ensure people see more original, helpful content written by people, for people, rather than content made primarily for search engine traffic. Learn more & advice creators should consider: https://t.co/fgf2TPNIqD pic.twitter.com/xOuX2iVk2d

— Google Search Central (@googlesearchc) August 18, 2022
Our umbrella of responsibilities as a top SEO company in India includes making you aware of all news by Google that can have a notable impact on your business. So, this blog is everything you should know about the 'helpful content update'.
What does focusing on people-friendly content mean?
As a business, can you ensure at this point that your content adds value to your visitors? With Google's new update, they aim to put people at the core of a business. While they have general guidelines that can help you rank better on the search engine, this update hits sites that focus on creating Google-friendly content rather than people-friendly.
Creating people-friendly content means creating content for people, not for search engines. It is about shifting your focus from the search engine to a visitor, which will eventually help you rank better on the search engine. This does not mean you should underplay the importance of implementing SEO practices in your content. However, we will look into this later.
Let's break down the 'people-friendly content' concept into questions and see if your business is on the right track.
1. Do you already have an existing audience that would find your valuable content if they directly come to your site?
Here is where the value addition comes into the picture. Of all the websites available today, if you can ascertain that a visitor will be satisfied after going through your content, you may be on the right track. If not, it is time to revamp your content strategy and write from your visitors' perspective.
2. Will a user leave feeling satisfied after reading your content?
A visitor will feel content only if it really answers their query. You can deliver this only when your content reflects expertise in the subject. If your content is created keeping Google in mind, it would fail to hit the right chords and would also not stand true to your business's core strengths.  
3. Does your site have a primary focus?
If your business talks about a particular subject, it is beneficial to a visitor looking for a solution pertaining to that subject. If it is generic, you need to ask what your site's primary focus is.
People-first approach doesn't invalidate using the best SEO practices 
While Google undoubtedly advises sites to have a people-first approach; however, it does not invalidate following the best SEO practices mentioned in its SEO guide. The key is to keep people primary and SEO secondary. Below are some questions that will help you know if your business is a search-engine first approach.
Are you creating lots of generic content hoping it may perform well in search results?
Are you using automation to create content on diverse topics?
Are you mainly summarizing what others have to say without adding much value?
Are you writing about things simply because they seem to trend and not because you'd write about them otherwise for your existing audience?
Does your content leave readers feeling like they need to search again to get better information from other sources?
If a majority of them answer a yes, then it rings alarms on your rankings and may perhaps be calling for a content revision.
How exactly the update will work and the anticipated impact?
The update is expected to begin next week, and Google will post it on its ranking updates page when it is fully rolled out. Their system can efficiently fish out content with little or no value or is otherwise not helpful to the users. So if it determines content with relatively high amounts of unhelpful content, it will rank these sites low.
However, removing all the unhelpful content from your site will help you rank up. A typical question here is – how long will it take for a site to rank better after it has removed unhelpful content? Well, this entirely depends on Google's classifier and can take up to several months for it to identify the signal. The classifier process is automated using an ML (Machine Learning) model.
As per Google, this update will significantly impact online educational materials and arts & entertainment, shopping, and tech-related sectors. The update is not made focusing on these sectors; however, they have a sufficient volume of content that may fall within its radar.
Also, this update is rolling out to English searches only. "We plan to expand to other languages in the future.", Google stated.
It is time to focus on the content quality
Ever since its first Panda update, Google has come up with a number of major algorithm updates every once in a while. This one particularly asks you to focus on the users. If you are skeptical about the quality of the content, take this update and this article as your cue to start working on it. Remember – meaningful content keeping your visitors in mind and SEO practices will garner the desired results.
Wrapping Up 
Hopefully, the blog helped you understand the update thoroughly and how you can be ready for its rollout. As a proactive digital marketing agency in Ahmedabad, we will continue to bring such essential updates to your notice. After all, we care about your business as much as we do about ours. However, if you find yourself in a pickle after knowing about this update and want to learn more about its impact on your business, feel free to reach out to us. We will be more than happy to help.