Table of Content
Do you remember shuffling through the "yellow pages" in search of a business? While it came in handy, it was an uphill task going through a pile of pages.With the advent of the search engine, Internet, search changed, and so did the business advertising approach. Today, it has taken a digital transformation of what we now know as Google My Business Listing.
Before we go into any details on Google My Business Listing, let us give you three stats (Source 99 firms).
3.5 billion daily searches in Google, 46%, i.e., 1.6 billion, have local intent.
78% of local searches on mobile results in offline purchases.
72% of customers who look online for businesses visit stores within five miles of their search location.
It is very evident that business owners are looking for local business online before hitting the road. Therefore, a Google My Business strategy is necessary for your business to appear in google search and maps.
But why sweat searching? Here are 15 tips and tricks for Google My Business optimization and Best Practices. So, read on.
Google My Business Tricks
1. Verify Your Business
To start with, you need to have your GMB account to access and optimize Google My Business Listing. Your Google my business account is not the same as your Google my business listing. If you do not have one, create it at www.google.com/business or simply log in. In the next steps, feed basic information such as the business's name, category, location, and contact details. You must fill in these details without skipping as much as possible to get preference in ranking.
After generously filling in all the basic information, you need to verify them. Google offers a few alternatives to do so. You can choose to do verification via post, email, or phone.
In the case of post verification, you will receive a letter from Google within 15 days at your business address. It will contain a 5-digit verification code that you need to enter after selecting the verify location option to proceed using the Google My Business Listing.
2. Enter details in every section of your Google my business account
Once the verification is complete, you can start the Google my business profiles optimization after completing every section. Please do not hold back from giving Google every possible business information that may help it put you in front of searchers. The more information, the better your rankings and it can help you to reach at potential customers.
Consider you are a cafe business. You must provide Google but information about your ambiance, food, menu, photos, video, tagged photos, special services, service area, andmarks near your, etc., to attract visitors and give reasons to Google to put you first!
Basically, you must complete all the sections because Google ranks you on the basis of three factors:
Proximity – As the name suggests, is the proximity of the business to that of the searcher.
Business relevancy – For instance, if a local search is for for cafes near me, but you are a bookstore, you won't appear in such searches because it's not relatable.
Popularity – How renowned your business is or how many people recommend your offerings is taken into consideration by Google.
3. Enter the correct contact details
When we say contact details, it's not just filling in your phone number. There are a few things you need to consider while doing so.
First, make sure you feed the same address details across all your online listings. If there is a change of address, ensure it is reflected everywhere to be consistent. Also, make sure the business name is exactly the same as your physical store.
Enter your correct contact details, especially a direct number is better than a customer service number.
Lastly, be sure to fill in your business's working hours and days so that no customer experiences any failed visits.
4. Select the right Business category and subcategories
To appear in local search, you need to select the most relevant category because Google My Business offers you a secondary list based on your choice of primary category. Therefore, make the right choice.
For instance, if you are a retailer, you can include reviews to attract visitors and surpass your competitors. It is important because it defines how your business appears in discovery searches which counts for 84% of all business listing views.
5. Tick on apposite attributes
Upon choosing a category, Google will present you with a list of attributes you may select if they fit your business. Google offers detailed attributes for searchers to understand your business better and make an informed decision to visit you based on the right information.
For instance, you can tick on alternatives like dine-in, delivery, or takeout if you are a restaurant business. It lowers the scope of negative reviews because a customer knows everything beforehand.
Get ready to stand out on Google!
Maximize your business visibility on Google My Business listings with our GMB optimization services
6. Write a proper business description
The first part that appears under your business name is actually an auto-generated description by Google. You are not allowed to make edits to it. Thankfully, it will enable you to add descriptions of your words under the "From the business" section that falls under the review section. To write an optimized description, you must keep a few things in mind. Here are they:
The character limit is 750, of which your first 250 characters are the most crucial. So make sure to cover all the necessary information here.
Further, consider Google My Business description SEO in mind. It pertains to adding 1 or 2 highly targeted keywords. Note that GMB SEO does not mean you need to overwhelm your description with extra keywords. Keep the density in check.
Next, do not cover the attributes you mentioned earlier while setting up the account. Use it to creatively speak about your business such that it can attract visitors.
Do not add links to your website here.
7. Publish Google posts weekly
Similar to Facebook, Instagram, or other social networks, Google allows you to post attractive content on your Google My Business account. You can share posts about new offers, sales, launched products, events, etc.
Using your GMB dashboard, you can publish posts that appear in the updates section at the end of your profile. It is also a Google my business SEO trick to optimize your visibility in local search results and GMB rankings.
But don't just post anything. Do it right. Here is how?
Some posts don't last longer than a week. So, post frequently to keep gaining the attention of Google.
Leverage the offer or event campaigns for a specific time. They are a good trigger to make people follow your business profile.
Add links to your posts.
8. Upload new photos weekly
Photos act as proof! Be authentic and generous with posting them. As per Google, customers are 35% more likely to click on a business's website and 42% more likely to ask for driving directions if it includes photos in its business profile.
Now, note these points to upload images for your GMB optimization.
Post weekly. It informs Google that you are updated.
Use the logo as a thumbnail.
Add an instigating cover picture. However, Google automatically selects photos to feature from your profile based on the search query.
Do not upload stock photos or graphically edited photos.
Do not compromise on image quality.
You can use Geo-tag in your photos.
Add 360-degree street view.
Add a video of your business.
9. Answer questions
We, humans, are inquisitive in nature. Meaning your customers have a lot of questions even while they are scanning your business profile. Putting those questions in front of them is like reading their minds but with the right answers to them.
Further, viewers also can ask questions in this section, and you must answer them as promptly as possible. You may choose to toggle off this section to prevent any negative sentiment from steaming, but mostly they are extremely helpful.
To optimize this section, you need to keep the following in mind.
Turn on notifications so that you can give immediate answers or never miss a lead.
Keep SEO in mind. Keyword-rich questions and responses might raise your GMB profile's ranking for a certain keyword. Therefore, when populating your Q&A area, bear in mind your Google My Business marketing strategy.
10. Collect and respond to reviews
Think of it, how much do ratings influence your decision to review or purchase a thing? As a ranking algorithm, Google weighs on reviews and ratings, so pay special attention to it. Here are some tips to help you gain some reviews:
Request your loyal and long-time customers
If you have a happy customer, help other customers find you by sharing a review.
Share the link to other platforms.
Express your gratitude to reviewers, as it will encourage others to share their positive experiences with your business.
Optimize your Google Business Profile at Aone!
Avail it all, from audit to Google My Business optimization services to enjoy an influx of consumers.
11. Add your products and/or services
A business without products or services has nothing to offer. Hence, people nor Google wants to visit you. It is highly recommended not to miss out on this area to gain higher rankings in SERPs.
Add the name of the product/service, description, and cost if you can while filling up this section. The description appears when a searches click on that particular product. Google might include links to your products in the category area.
12. Set up messaging
This feature especially facilitates mobile searchers to directly message you on your phone through your Google My Business profile. Since the majority of local Google search happen on smartphones, it gives you a great opportunity to increase your business visits and sales.
However, you don't just enable it and start receiving messages. You need to download and install the messaging app from Playstore or App Store, after which you need to turn on notifications by toggling "Customer messages." Also, you can use a new number from the Allo app and keep your personal number from going out.
13. Keep up your business profile
Marketing, anyways, is not a one-time initiative. It is an ongoing process, and when talking about Google My Business marketing strategy or Google maps stretegy, it needs regular updates and posting to maintain or escalate your rankings in Google. To do so, note some Google business tricks.
Periodically update information in your profile. Even a minute change matters.
Regularly put up posts, images, and videos.
Request reviews from your customers, so you have them in abundance.
Always respond to reviews, especially negative ones.
Utilize all the features.
14. Promote Your Events
Businesses have some sort of festive season where they offer discounts on products or clearance sales. It is highly recommended that you publish event posts on your Google My Business Profile to attract customers and inform Google that you are a live business and that their shoppers will have a good experience at yours. It keeps you up in Google's credibility and helps you gain footfall at the same time.
15. Review your profile performance insights
With GMB, you can track your profile performance for a set period. All you need to do is go to your Google My Business Profile, select Promote and choose Performance. Now choose the date range of the period you want to track performance and click on apply. You can even do that if you manage multiple profiles from Google's business profile manager.
Various performance metrics are available such as views on maps, searches, views, direction requests, calls, website clicks, bookings, interactions, orders, product clicks, and more. It is a comprehensive list that lets you improvise based on analytics.
Moving on, let us answer some questions about Google My Business Profile to help you understand thoroughly.
Why do you need to optimize your Google Business Profile?
People need reasons to visit you. Google My Business Profile is your opportunity to speak authentically and wholeheartedly to consumers so they would want to visit your business. It helps you surpass your competitors. Let's understand this deeply.
Strategic GMB profile optimization!
Drive mammoth traffic from the web to your doorstep with Google Business Profile optimization services.
Allows you to engage with prospects
We know Google is a search giant with the biggest market share. It is because they are providing exact answers to searches in seconds. To be loved by your consumers, you need to answer their questions, and a GMB account allows you to do that!
Power your rankings
The amount of information and its genuineness are all considered by Google for ranking your GMB profile. Each time you update your Google My Business profile, it instigates Google to rank you higher and gain more exposure because you deserve it.
Get more footfall and conversions
An optimized GMB profile lets your customers find you in their searches, ask you questions, learn the answers, view your location, check pictures, videos, reviews, and more. You need not wait for them to visit you for conversion; you can also convert them on your website.
What are the top 3 GMB ranking factors?
To determine your GMB profile's ranking, Google has multiple GMB ranking factors. If your website ticks these criteria, your profile will earn better rankings and visibility.
Relevancy
Google checks if your business offerings match the search query. If so, it'll put you in local SERPs.
Location or proximity
If the search query is "ABC near me," then Google tries to find out how near you are to the searcher to put your business in their SERP.
Prominency
The popularity of your business matters. The number of reviews, ratings, Q&As, posts, etc., counts when Google checks ranking factors.
Does GMB affect SEO?
Increased CTR, direct links to your particular products and services, and a list of your most recent blog posts, are all ways that Google My Business affects SEO. It is one of the most effective ways to impact local SEO and search rankings, offering you a great opportunity to interact with valuable local customers. It does so in three ways:
Providing location-based signals to Google
Allows utilization of location-specific keywords
Builds your credibility in Google
Is there a fee for Google my business profile listings?
Owning and creating a profile on Google My Business profile is completely free. Your Google listing can be made and managed without cost. However, if you undertake Google my business profile optimization service, you need to bear the service cost. It will take the weight off your shoulders to manage and update your profile regularly.
Can I have more than one Google my business listing at the same address?
You can normally build a Google My Business profile listing for each legitimately operating enterprise if they are legally separate. It's typical for multiple businesses to be housed at the same address.
However, there are a number of things you need to consider, such as a unique Tax ID, avoiding the same address business as Google often discourages such practices, suits numbers also don't help, and more.
Google My Business Optimization Case Study
AONE SEO SERVICE is ranking on many keywords in Google 3 Pack map (Map Results in SERP) results.
Here are examples of our Google my business profile Optimization.
We are ranking in 1st position in Google map results on the keyword "best seo company in Ahmedabad."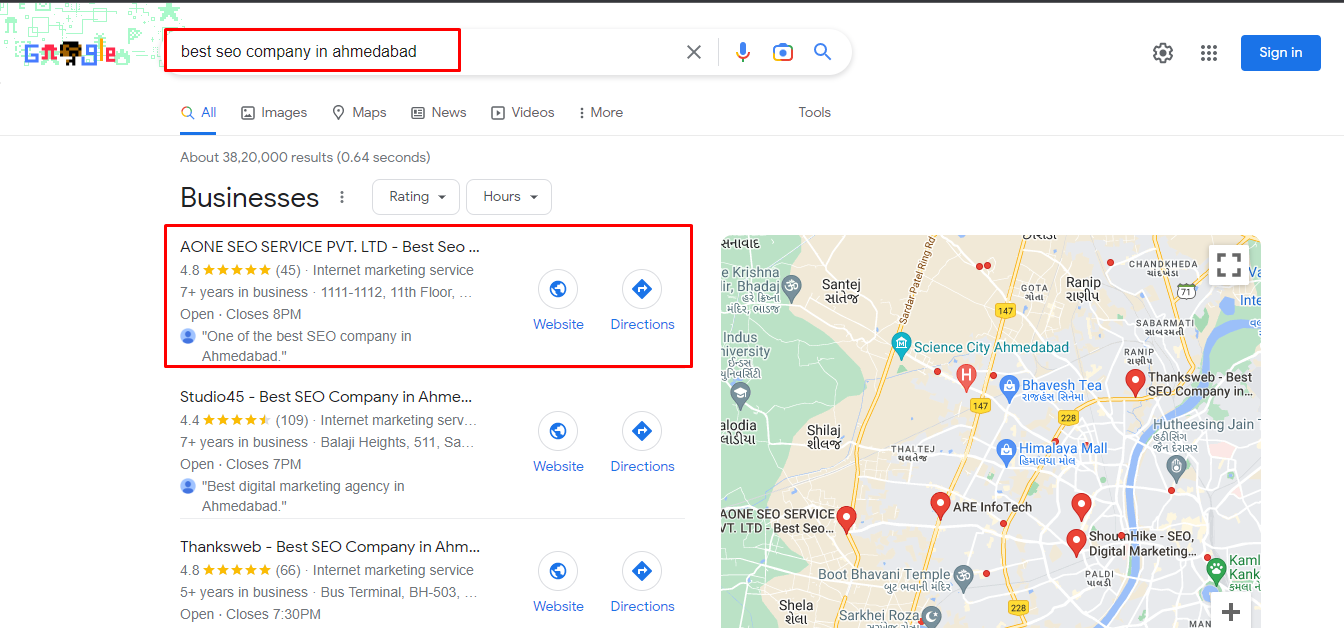 We are ranking in 1st position in Google map results on keyword "#1 seo company in Ahmedabad"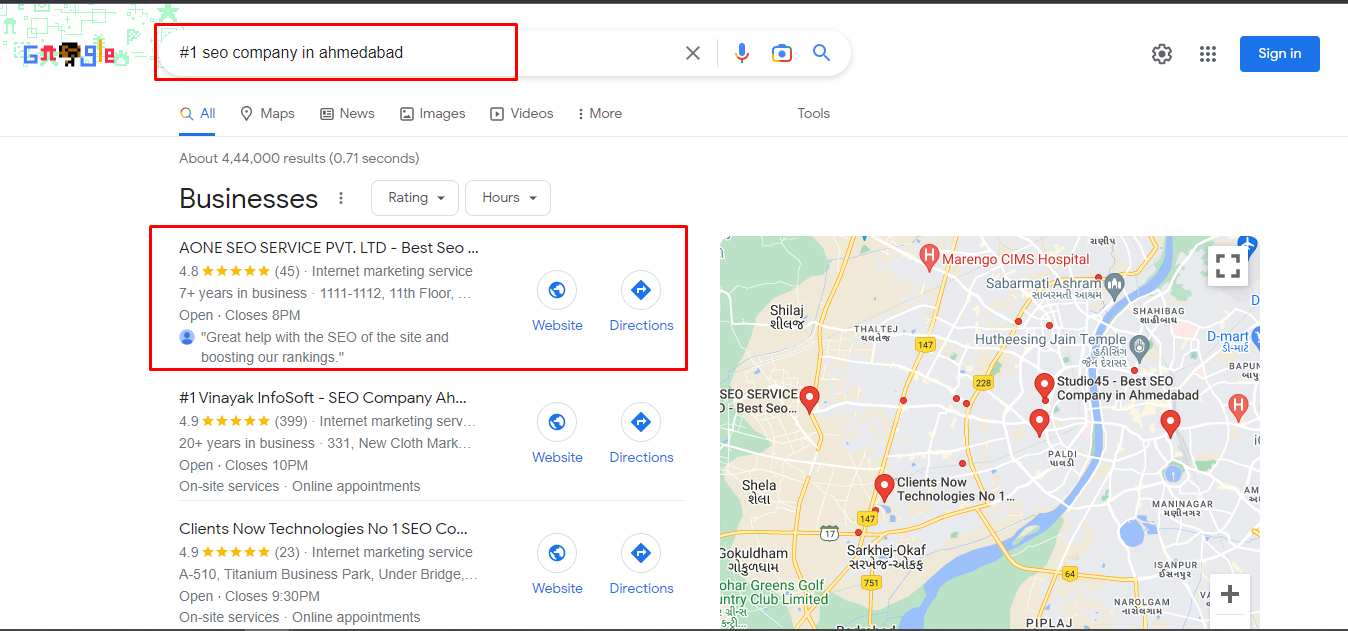 We are ranking in 1st position in Google map results on keyword "seo company in Ahmedabad"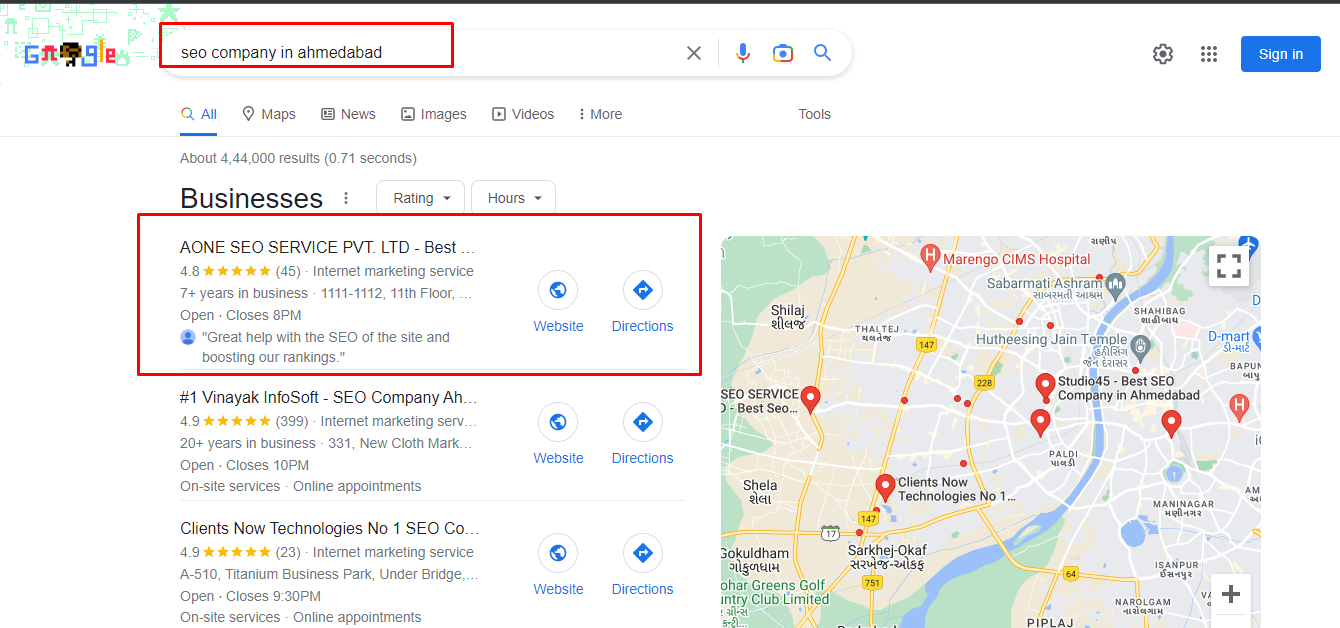 We have suggested in our content above athe elements and Google my business strategy. Now, let's see what we have followed to achieve these results.
Step 1
We have verified our business on Google with Postcard; you have two options: post card sent from google or phone number verification.
Step 2
We have entered all the correct contact details on AOne Seo Service Google my business profile.
Step 3
We have selected the right business category that can define our business.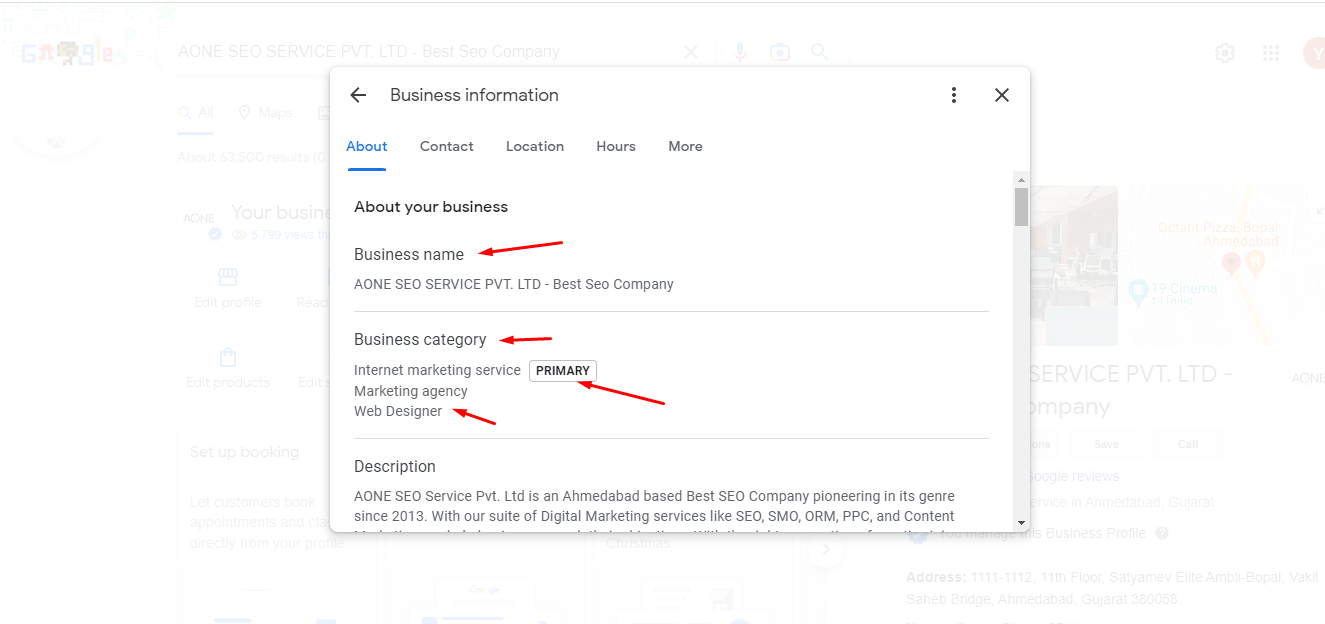 Step 4
We have added information on apposite attributes that can help users know more about our location, which should be related to your business.
Step 5
To rank locally, we have written the correct business description related to our targeted keywords.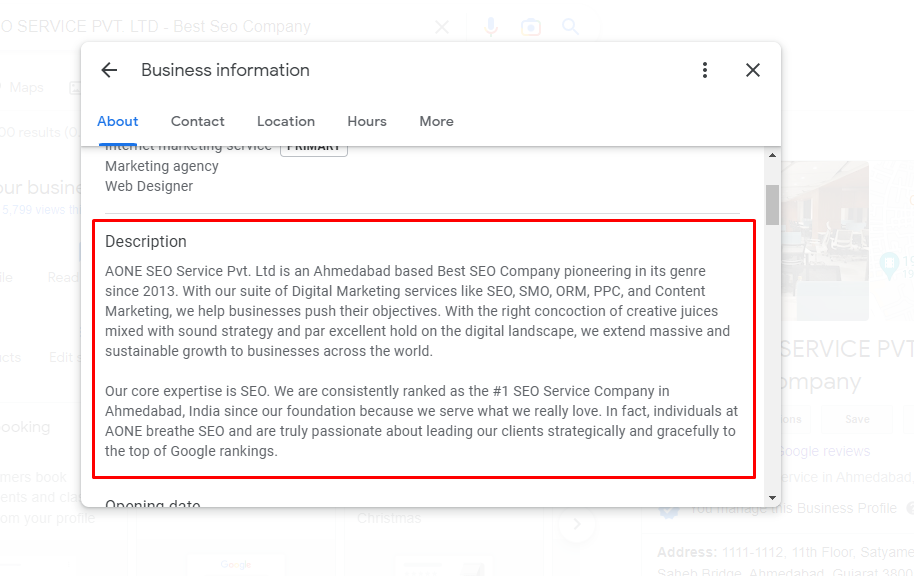 Step 6
We have published posts and images regularly on Google my business by targeting our keywords.

Step 7
We have answered the questions we got on our Google my business profile.
Step 8
We have responded to all our reviews on the Google my business profile.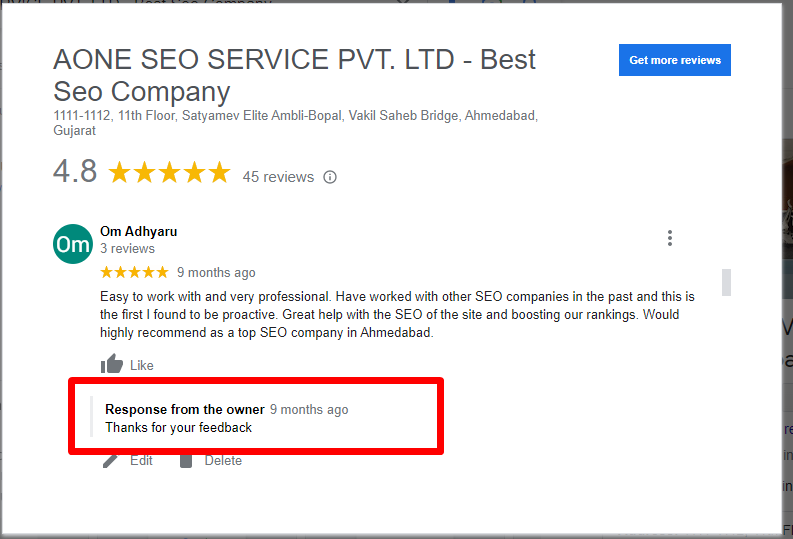 Step 9
We have responded to the messages we received to ensure the user felt answered and that you didn't miss any business opportunities.
Conclusion
When it comes to Google, it's all about providing genuine and rich information to its users. That is the only mantra for success in Google ranking and SEO. The same applies to Google My Business Listings. To rank higher in local searches, providing the maximum possible information and keeping it fresh with newer content or business updates is highly recommended.
While the crack to Google's algorithm can never be known, we at least know the code to the consumer's heart, and that's a well-updated GMB profile of your business.
Are you still finding it a hard row to hoe? Relax, AONE SEO Service is here. Get in touch with us for google my business optimization service.