Social media marketing agency in India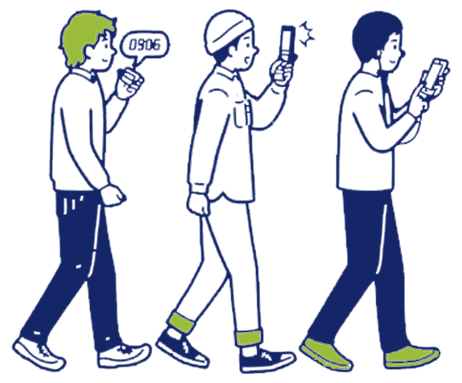 Social Media Optimization
Find | Connect | Direct
Social Media is a microcosm of this infinite web that allows every entity to connect and exchange information.
It unleashes exponential marketing opportunities to reach millions.
Brands can captivate audiences in the most creative manner and tell stories about themselves that people reminisce about.
As social networking sites are constantly upgrading to make themselves more and more lucrative, we as the best
social media marketing company in India
, derive new ways, avenues, and strategies to exploit the power of social media marketing for our diverse clientele.
The possible ways of harnessing social media for marketing are outrageous.
We don't chase metrics that do not have any impact on your business.
Rather, we infuse innovation in the brand's soul and help them succeed on social media by being tactically nimble, true to self, and adopting an audience centricity in every conversation/campaign they fuel.
Through innovation and creativity, we thrive to achieve for brands
Good rapport
Meaningful conversations
Round-the-clock engagement
Achieve business goals
Social Media Marketing
is built on
impressions relationships
Organic Social Media Growth
Brands fear getting scrolled over trolled.
To engage viewers, you ought to communicate effectively through your social media posts. Effective communication, in turn, pertains to:
Understanding user behaviors and interests
Pain points of your consumers
When and where is your audience
Identifying the right platforms and more.
The organic game involves ways to connect with your audience, give them the opportunity to interact with you, appreciate them, and more. There has to be relevance, in terms of design language and brand communication in your social media pages as well as your paid campaigns.
As a knowledgeable social media company in India, we at AONE, consider organic social content as the basis of the social media strategies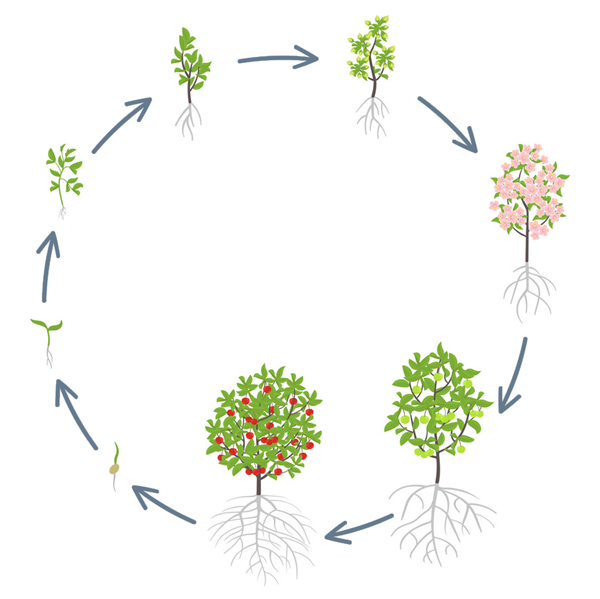 Paid for reach and attainment of goals
Social media feeds are busier than ever. To stand out, paid ads are inevitable.
There is humongous scope in the social media pay-to-play game. Whatever is your objective, social giants like Facebook have algorithms to support every type of campaign.
It facilitates brands to increase their brand awareness, generates traffic to their landing pages, expands their social media community, retargets their audience, and much more.
At AONE, we create strategic, instigating, and high-performing campaigns under the experienced surveillance of paid ads specialists.

Understanding business goals
Whether you are a business to business, business to consumer, or consumer to consumer brand, we comprehend your business goals, process, competitors, and target audience as the first step of social media optimization

Identifying audience
Every business sector has its own consumer base for targeting. With billions of people on social media, we practice laser-focused targeting for effective branding.

Determining relevant social platforms
Of all the social media platforms, at least six platforms have over 1 billion active users. Audience overlap persists hence you may not be present on every networking site. We carefully determine the most relevant platforms for your business.

Effective brand communication
Content that fails to register consumer's attention is an opportunity lost. Being the
best social media marketing company in India
, we make sure every content going on your social media account is effective in its purpose.

Boosting growth with paid ads
If you are a new entrant into the social ecosystem, then paid ads are a great way to gain visibility faster. Based on your needs we can create awareness, consideration, or conversion-based campaigns that drive solid results.

Performance reporting
We don't do all talk and no show. Our extensive reports give a clear picture of your business position in social media and the effectiveness of our endeavors.
We have a strong presence in all the major cities of India like Ahmedabad, Bangalore, Pune, Delhi, Mumbai, Surat, Vadodara, Kochi etc. Moreover, we have a robust global presence having footprints in all the leading countries like Australia, USA, UK, UAE, South Africa, Germany, Russia etc. We get along with our clients in this journey and ignite a digital revolution to enhance their brand as whole.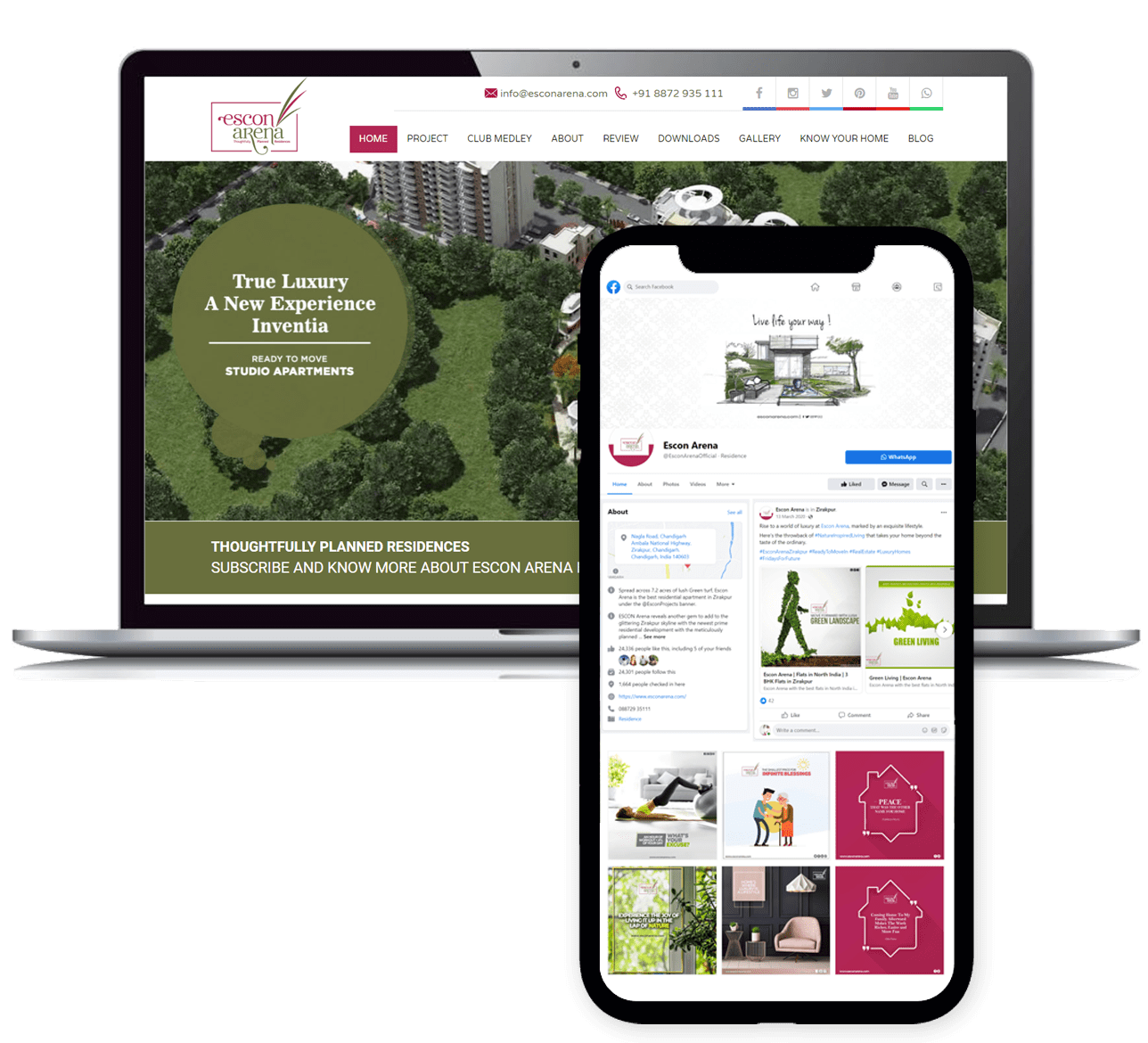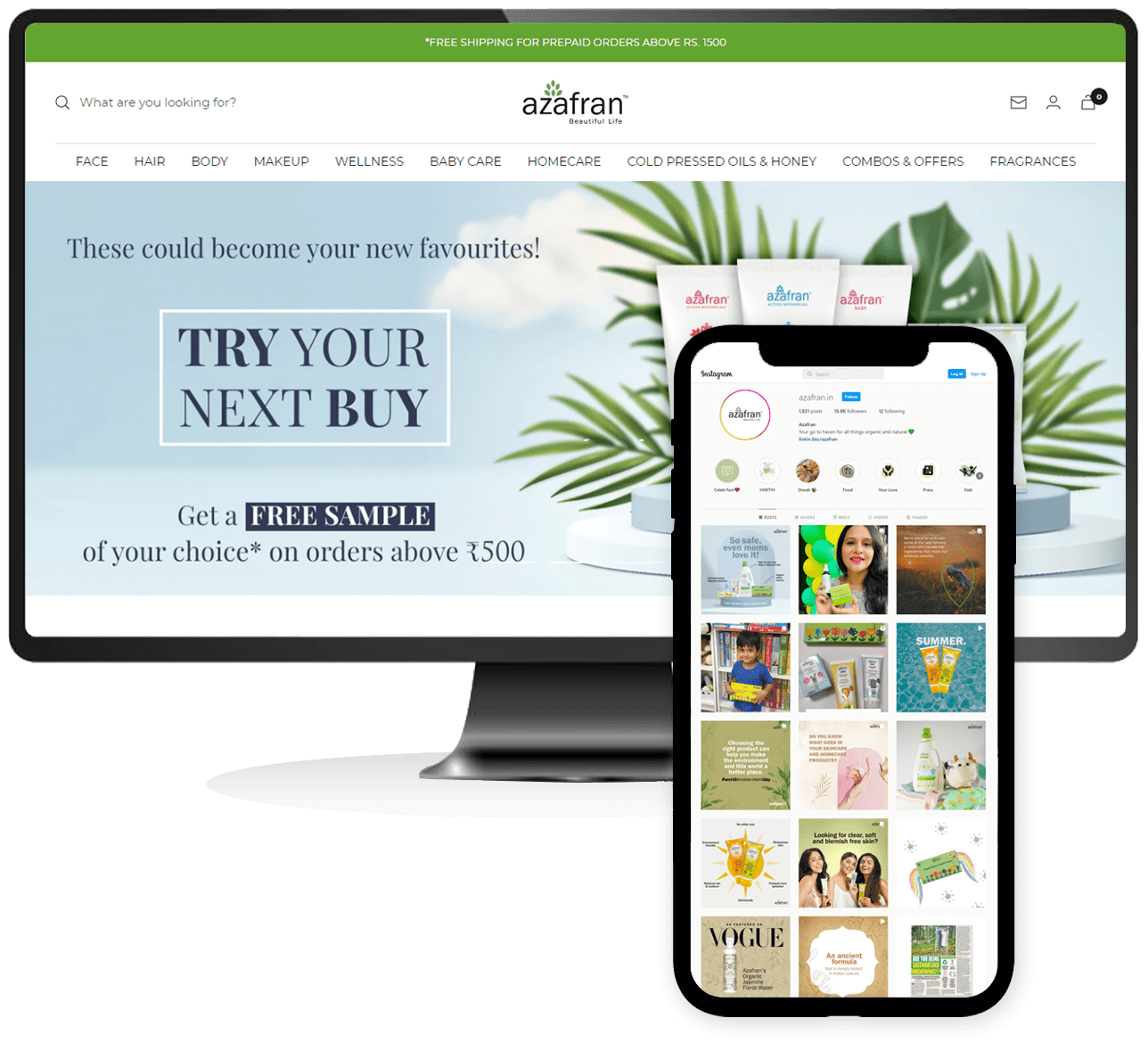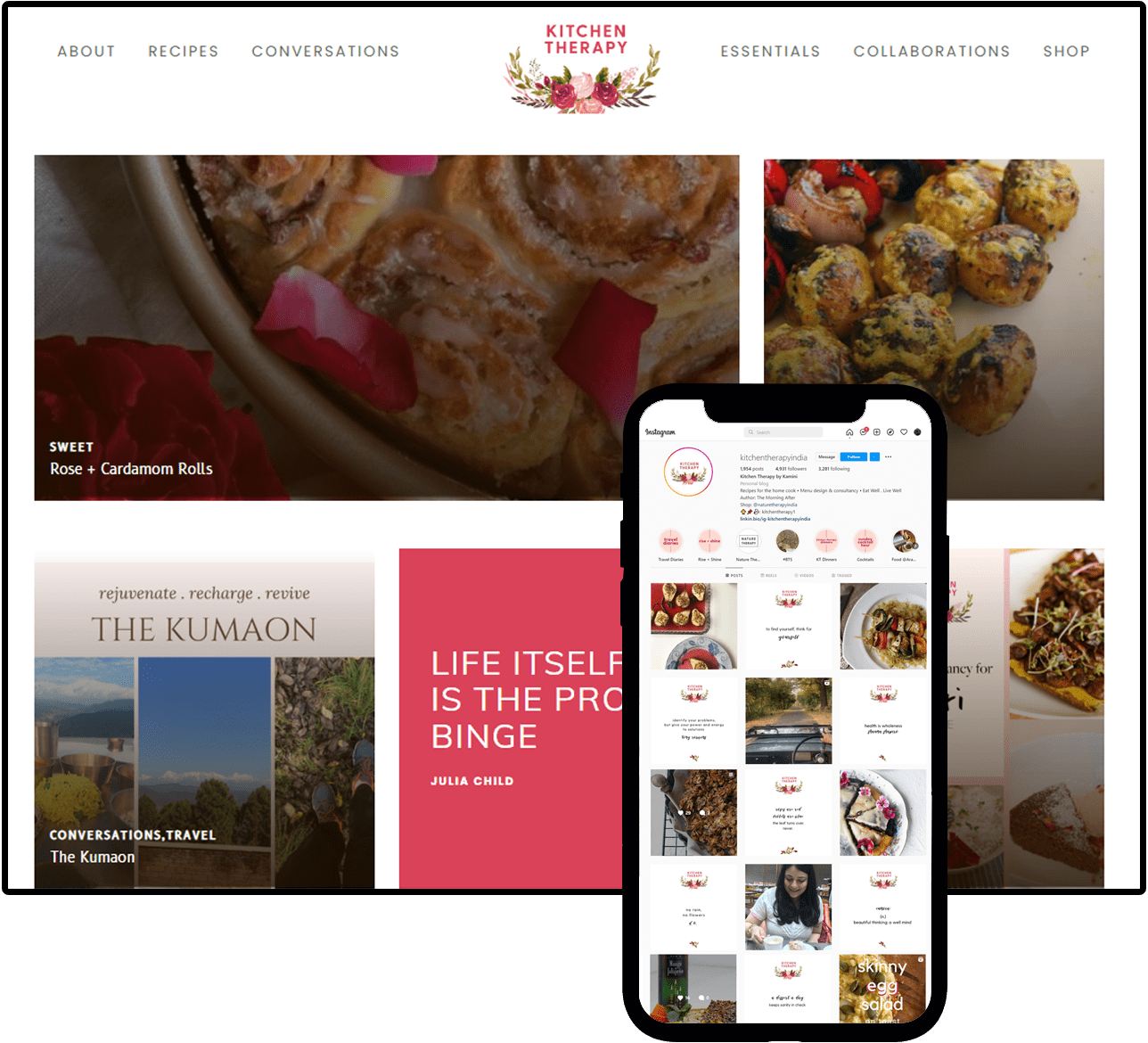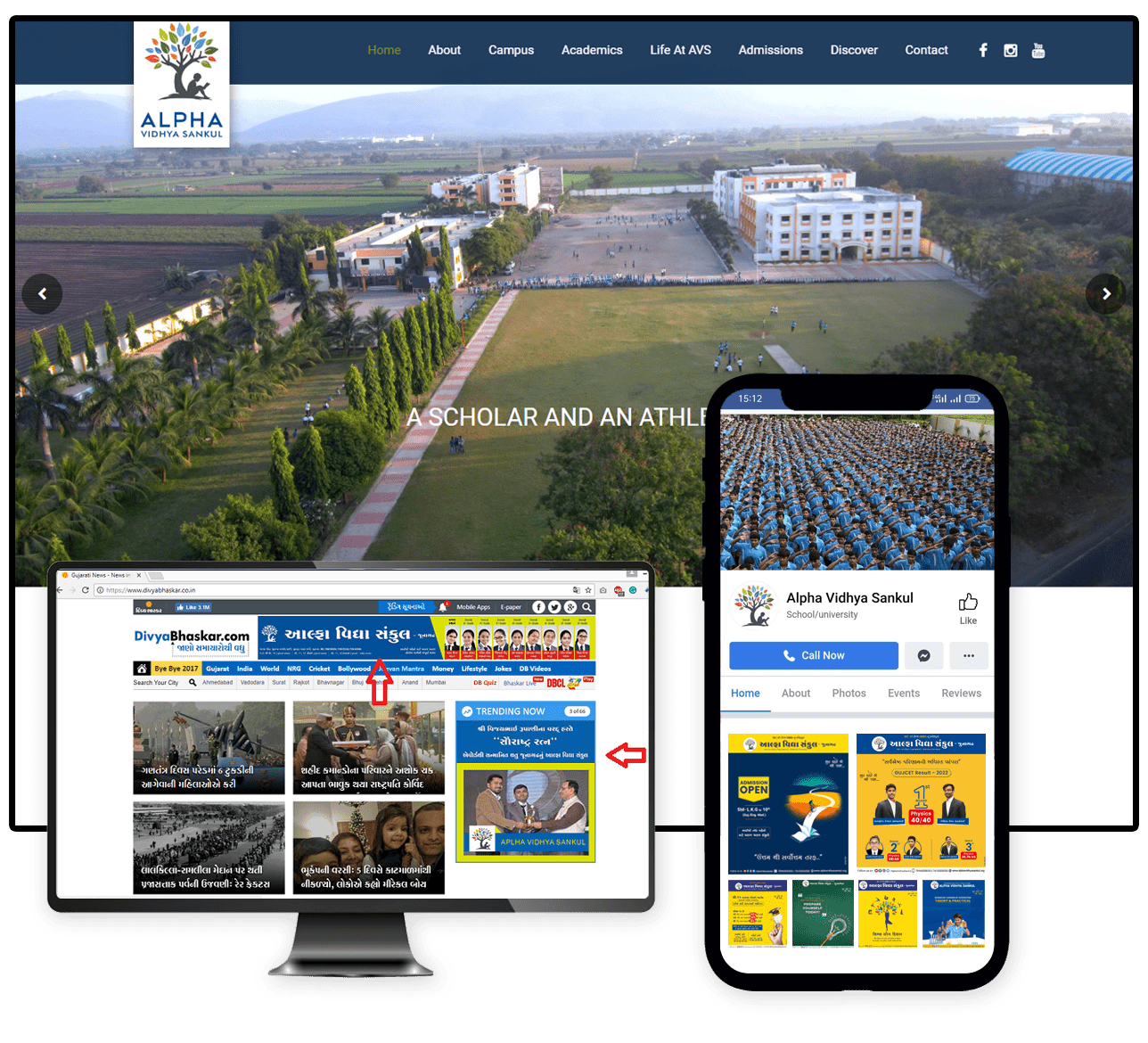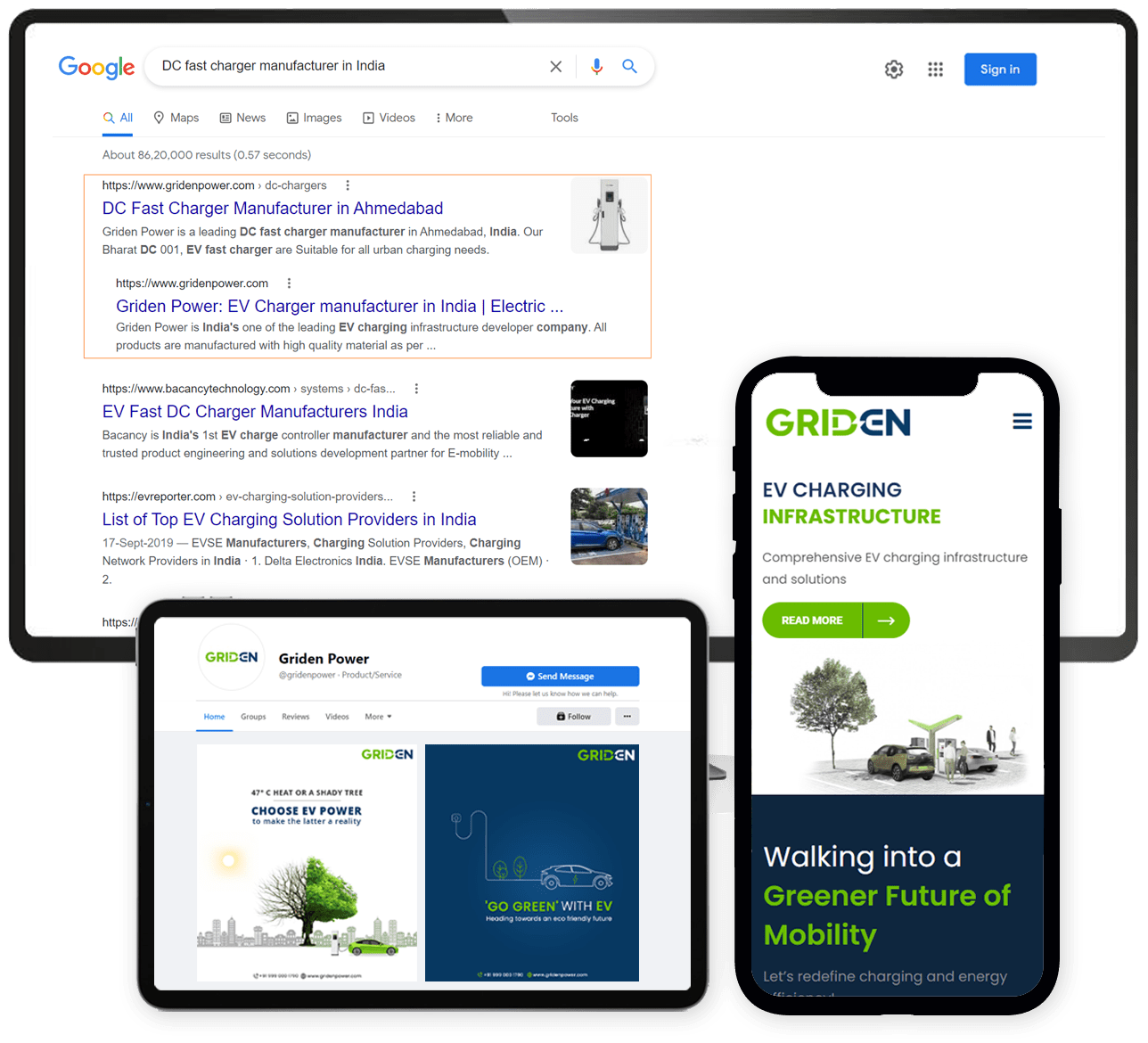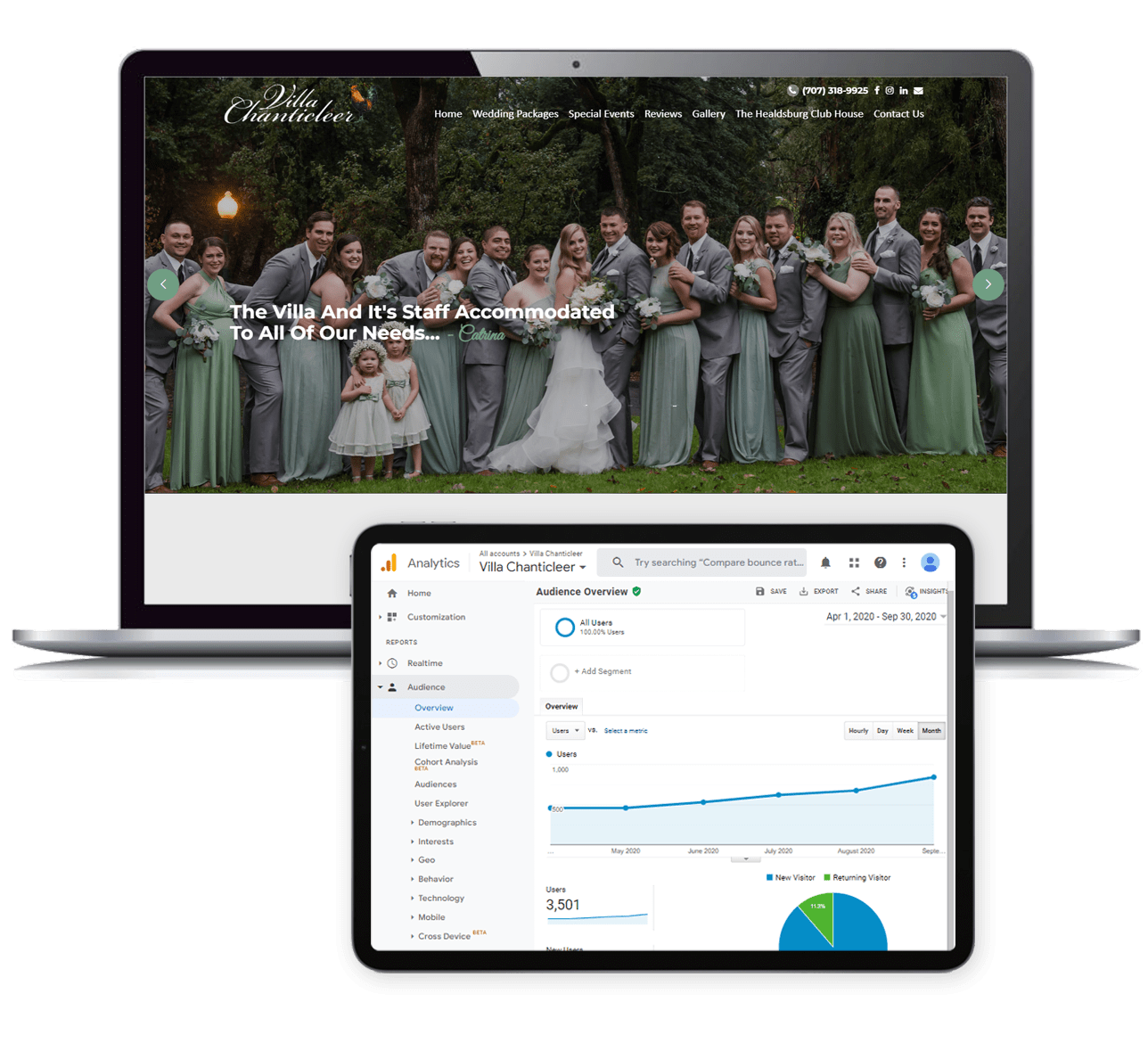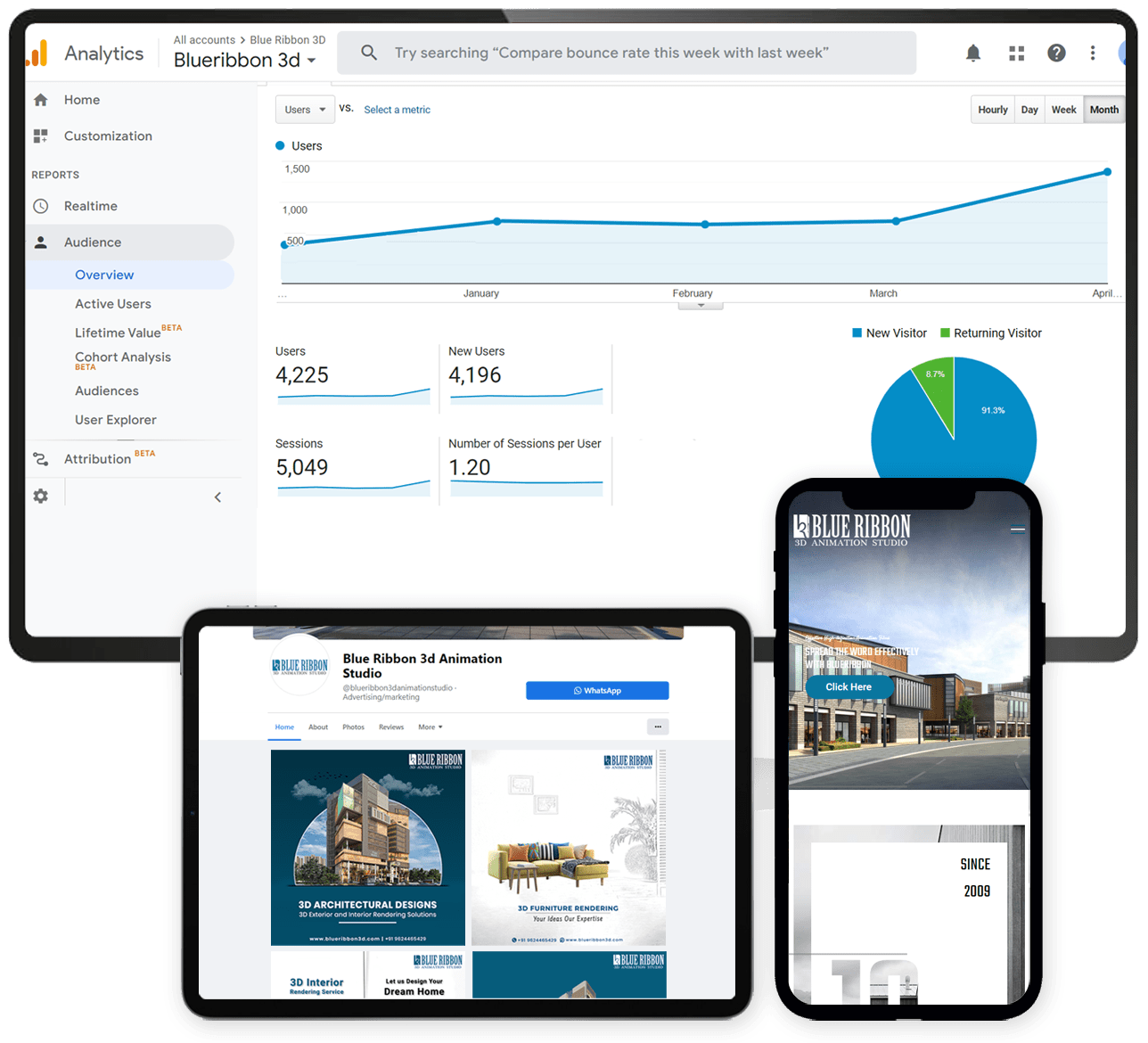 Shiva's Cafe
Objective: The fast-expanding cafe chain, Shiva's wanted to recreate their business image such that it can attract a set of customers of the city specifically. The idea was exceptional branding using social media.
Services undertook: Social media optimization
Result: AONE deployed their most creative minds to develop luring creatives that brought upon a large volume of followers, popularity and demand for the cafe. Today, it experiences enormous footfall at every outlet.
Escon Arena
Objective: For a real estate company, the digital marketing goal was to generate leads for their luxurious properties built in North India. We undertook social media optimization and marketing services.
Services undertook: Social media optimization & marketing
Result: To drive relevant leads AONE formulated an organic : paid ad strategy where organic content was aimed toward branding and Lead generation ads drove substantial leads for the luxurious property.
Azafran
Objective: For a renowned brand like Azafran, isolated digital marketing services is not applicable. The idea was big and the objective was marketing, branding as well as awareness for organic benefits.
Services undertook: Complete Digital Marketing
Result: As an outcome of our comprehensive digital marketing solutions, the organic product manufacturing company experienced mammoth digital growth. We designed an SEO-friendly structure of the website along with other activities and services.
Brand visibility
Increase in sales
Social media community growth
Strong and top ranking in SERPs
Kitchen Therapy
Objective: Food is the most enjoyable ingredient in the recipe of life. Building a community of people who celebrate food was the objective of our food blogging client.
Services undertook: Social Media Optimization
Result: AONE developed mouth-watering food creatives, and edited and created videos that lured food lovers to follow the page and channel. In a very short span, the number of followers tremendously increased allowing clients in achieving their revenue goals.
Alpha Vidhya Sankul
Objective: The school has embarked on a vision to educate and inspire young minds. Creating a digital impact was crucial to bring out their good work. The objective was to develop an image, connect with parents through social media postings and improve visibility with SEO.
Services undertook: Digital marketing services
Result: The school gained tremendous popularity and admission enquiries that kept increasing ever since we deployed our best practices.
Impressive social media image
Creative website identity
Increased visibility with SEO
Increase in enquiries and admissions
Griden Power
Objective: For an EV charging infrastructure company, the key to generating demand was awareness for their brand. Although, EV industry is still gaining momentum, the competition is fierce already. Hence, with complete digital marketing their goal was to create a strong digital presence.
Services undertook: SEO, PPC, Social Media
Result: AONE delivered extensive digital marketing services to Griden with our best practices laid forth. Not only did we leverage SEO but PPC to give the brand the boost required. Consequently, Griden achieved top ranking in Google, both organically and in PPC campaigns.
Increased visitors footfall to the website
Promoted business over the Internet
Campaigns generated leads and powered the website with relevant searchers
Villa Chanticleer (USA)
Objective: Competing and obtaining more bookings was the primary objective of the event and wedding venue business in the US followed by branding.
Services undertook: SEO & Social Media Optimization
Result: To accomplish the goal we provided SEO and Social media services wherein the former generated more inquiries and bookings and the latter reflected their beautiful venue playing the role of a hook to attract visitors.
Build business awareness
Gained significant bookings ongoingly
Achieved a top ranking in local searches
BlueRibbon 3D
Objective: India-based company 3D animation studio, had a definite objective to promote their services in the US. The purpose was to promote their services and build brand awareness in a foreign country.
Services undertook: Rigorous SEO and Social Media Optimization
Result: From SEO-friendly site structure to content distribution, AONE did an intensive SEO job to gain Blue Ribbon outstanding results in the SERPs while building an authentic brand image through social media.
Build brand position in the competitive market
Created a strong online presence in the US domain
Drove organic traffic to the website
Enhanced brand image with SMO
Years of rigor and quality work has brought us recognition amongst leading digital marketing companies of India in various domains.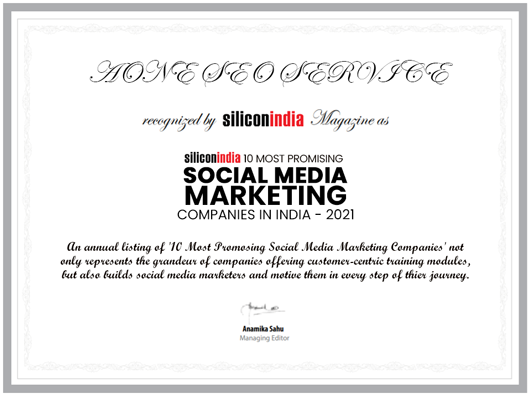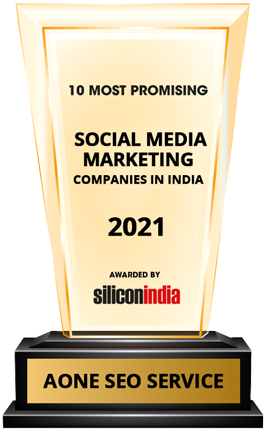 Before launching our business socially, AONE did a commendable job in understanding our business and services. We witnessed great progress in community development as well as the branding of our business.
Vinita Anand
I have loved the way they do social media marketing for my brand. The feed is really creative and engaging. Confidently saying, AONE is the promising Social Media Marketing Agency in India.
Saumendu Roy
We are able to successfully drive awareness for tourism projects and have attracted an unexpected amount of audience. We are satisfied with the social media marketing services we have been provided. Indeed the best social media company in India.
K. D. Chavda
Ours is a family-run business for three generations and is already renowned amongst the masses. However, we are required to establish social media presence to be able to engage with our consumers. At AONE, we found every creative was well-thought and made a great connection with the audience. With their top-notch social media services, we were able to reintroduce our brand digitally.
Punit Patel
We had a strong social media presence for our online saree brand. However, we wanted to improve sales of one of the saree range. We opted for Social media marketing services at AONE and were able to pull great traffic to our site with significantly low junk leads. Must say an expert social media marketing company in India.
Pari Pandya