Digital marketing agency in India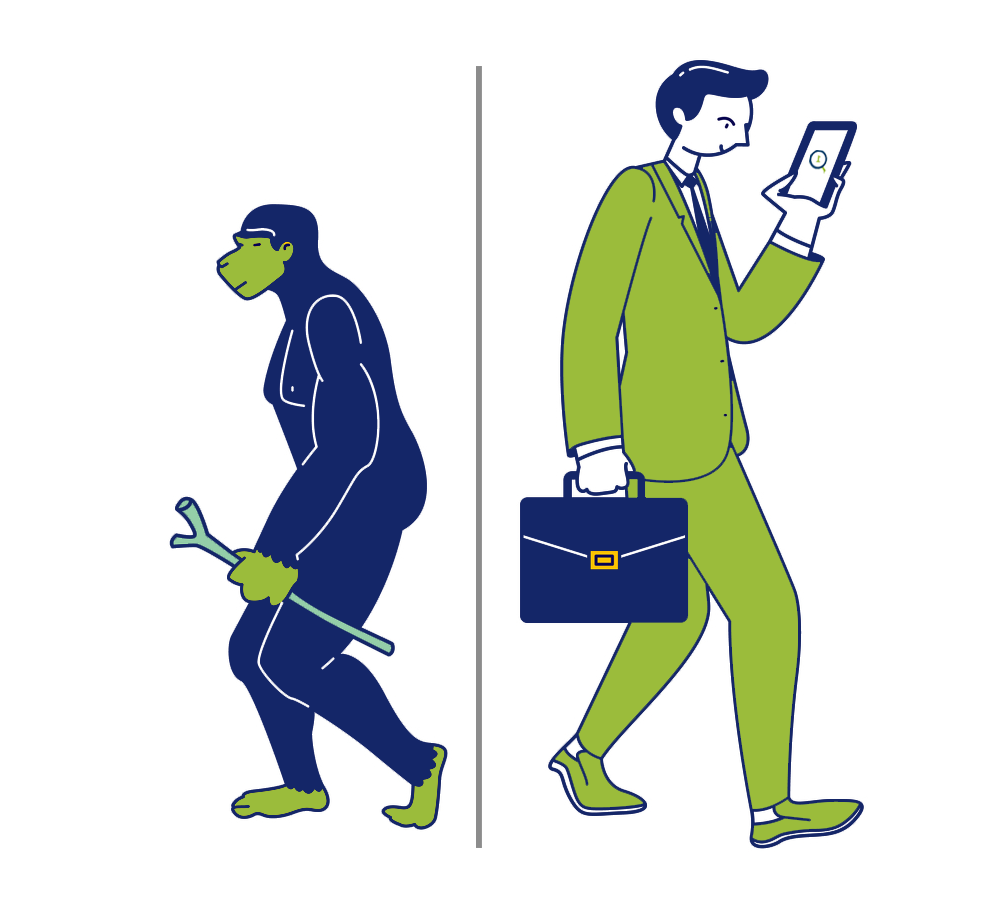 The modern human or the Homo Sapien is the outcome of hundreds of years of evolution.
In other words, the only thing permanent is change.
So, what is exactly changing?
From the way we connect, the way we consume information to the way we trade; basically everything, every day. Kudos to the Internet!
Keep above the changing world to leverage limitless growth.
Get aboard the
best digital marketing company in India
!
What is marketing digitally?
A fragment of the term Digital Marketing is Marketing.
It refers to leveraging the power of the Internet and digital devices to promote brands, products, and services to endless users wherever they may be!
The possibilities to expand your reach with Digital Marketing are cosmic.
The real question is - are you headed where folks are?
If not, take our hand so we can take you to your consumers. As a proficient
top digital marketing agency in India
, we have experts in every digital marketing domain.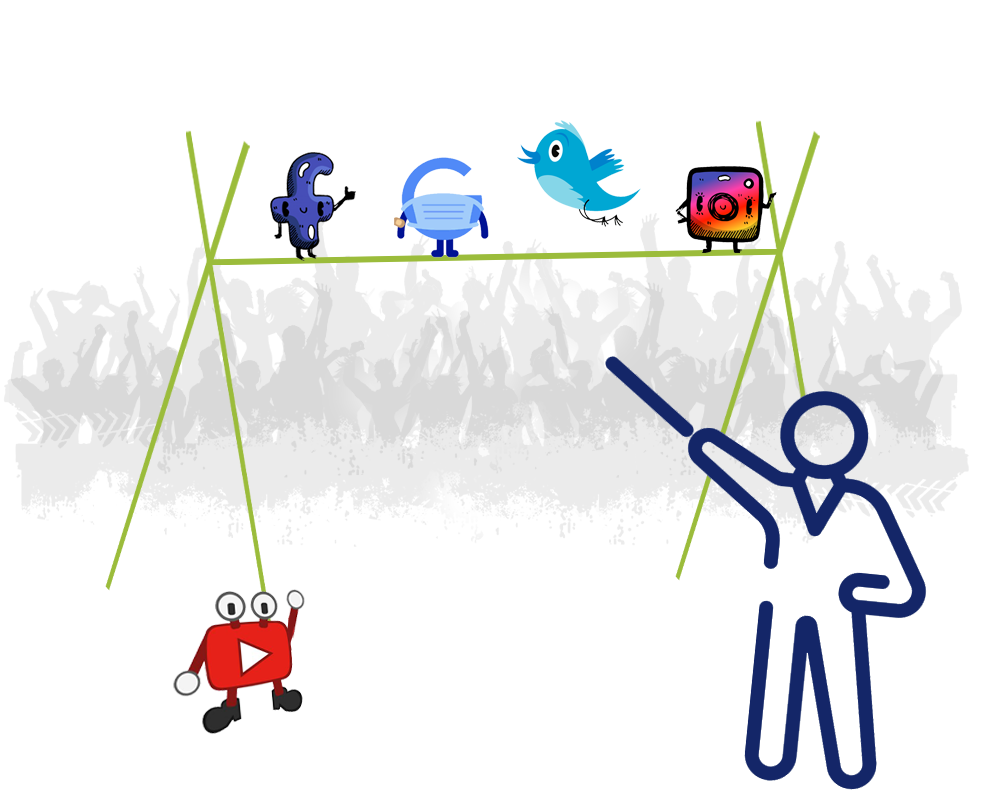 The Digital Marketing Spectrum
SEO
Own the top rankings on all major search engines. We strategically escalate your business on top SERPs and make you experience the invaluable feeling of being on the top.
SMO
Create a healthy buzz that brings value to your business. Leverage social media at its best to win the hearts of your audience.

PPC
Drive sales-qualified leads and thereby enjoy bounteous business. We make every click count for your business growth, making it worth your penny.

ORM
Set a brand new digital identity organically. Build brand rapport digitally without getting affected by negativity and leverage it to drive great business.
Content Marketing
Employ words to speak strategically and attractively. We master the subtle art of letting the content speak impressively for your brand.
Digital Branding
Let the soul of your brand reverberate authentically to your audience in the most creative, engaging, impactful, and lucrative manner.

Influencer Branding
Connect with the right ambassadors for your brand that can help you build trust and fame amongst relatable audiences.
If your business is not on the Internet, then your business will be out of business
Our principles and our working methodology has entitled us to be an eminent
digital marketing company in India
.
Working at full bandwidth
Our spacious infrastructure accommodates highly skilled professionals in every department that share a common zeal to scale. We are well-equipped with the right resources to adapt to your expanding business requirements.
Human-centric approach
Strategies should be human-centric. In other words, your consumer's mindset, pain points, interests, and behaviors should be at the nucleus of your planning. For a knowledgeable digital marketing service provider in India, this is inevitable.
Technological adaptation
Embracing technology has facilitated us in staying ahead of the curve. With integrated Artificial Intelligence tools, we accumulate data for competitive analysis, market research, understanding trends, and more. Based on these parameters, we define techniques to help you surpass your competition.
Ongoing skill development
We strongly believe in the periodic skill development of every AONE member. This not only gives them a competitive edge but also enhances the quality of work we deliver.
Punctual turnaround time
With project management tools and team leads in place, we ensure that the deadlines are always met. This punctuality has helped us build trust and rapport with every client of ours.
We have a strong presence in all the major cities of India like Ahmedabad, Bangalore, Pune, Delhi, Mumbai, Surat, Vadodara, Kochi etc. Moreover, we have a robust global presence having footprints in all the leading countries like Australia, USA, UK, UAE, South Africa, Germany, Russia etc. We get along with our clients in this journey and ignite a digital revolution to enhance their brand as whole.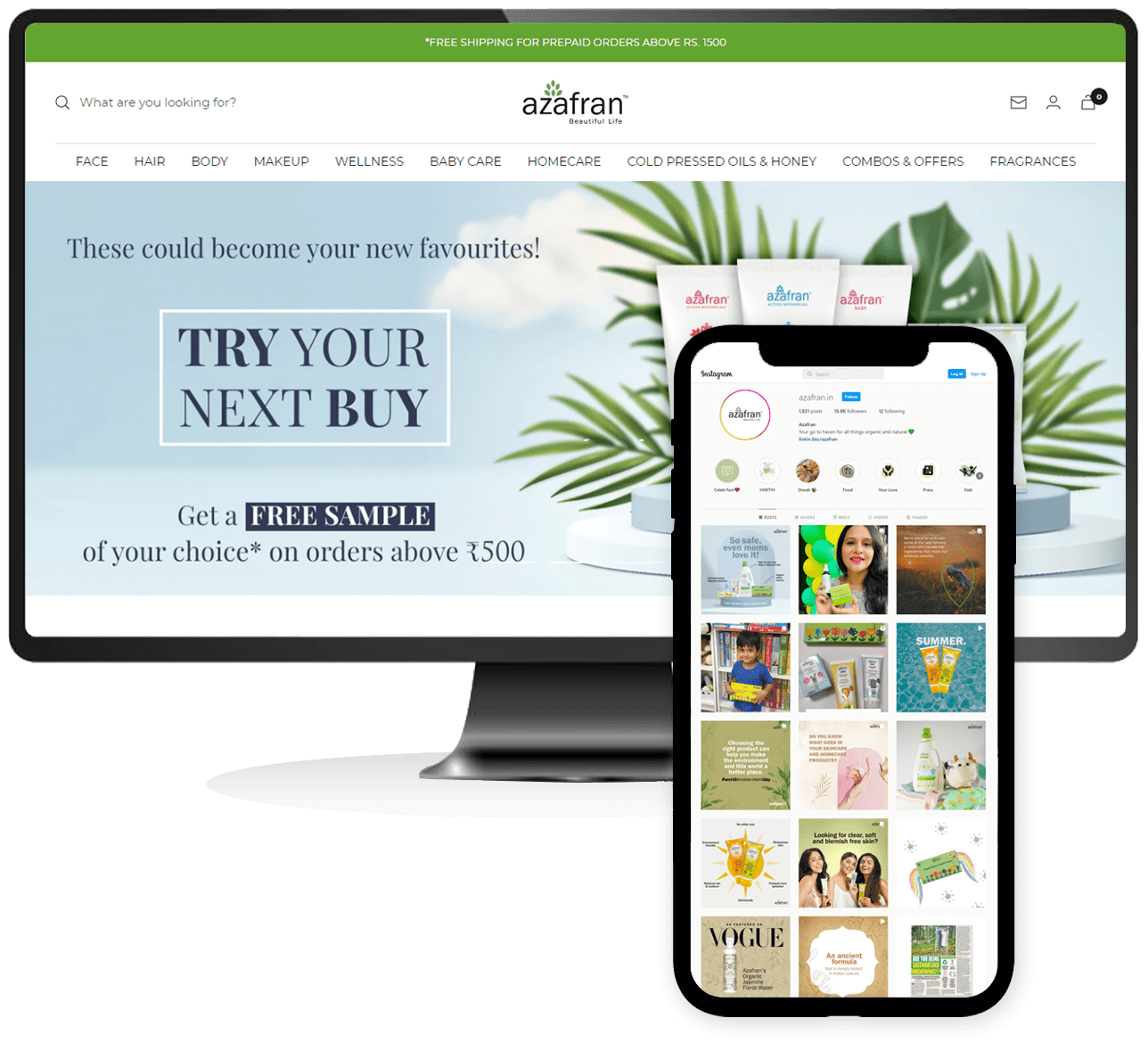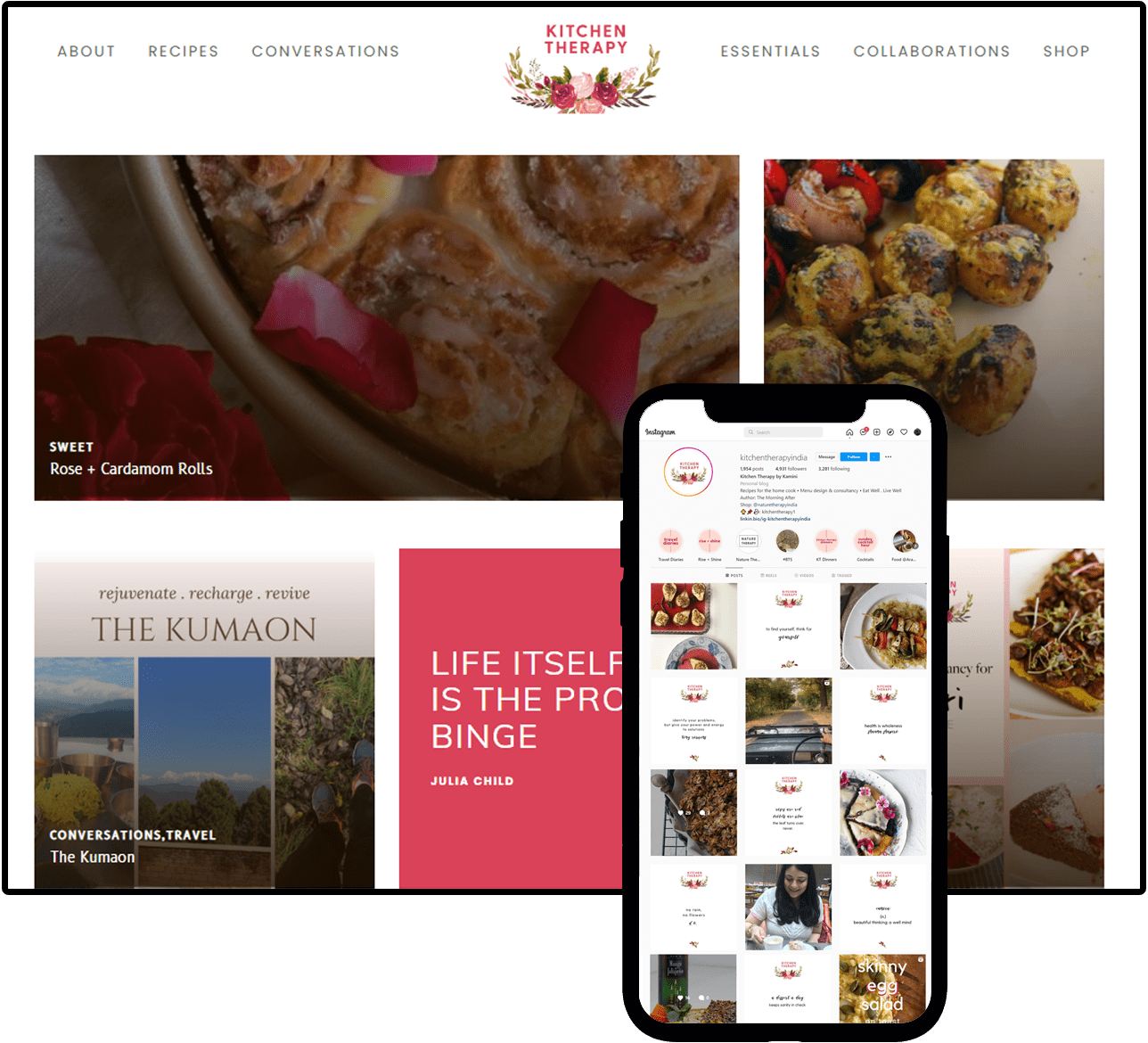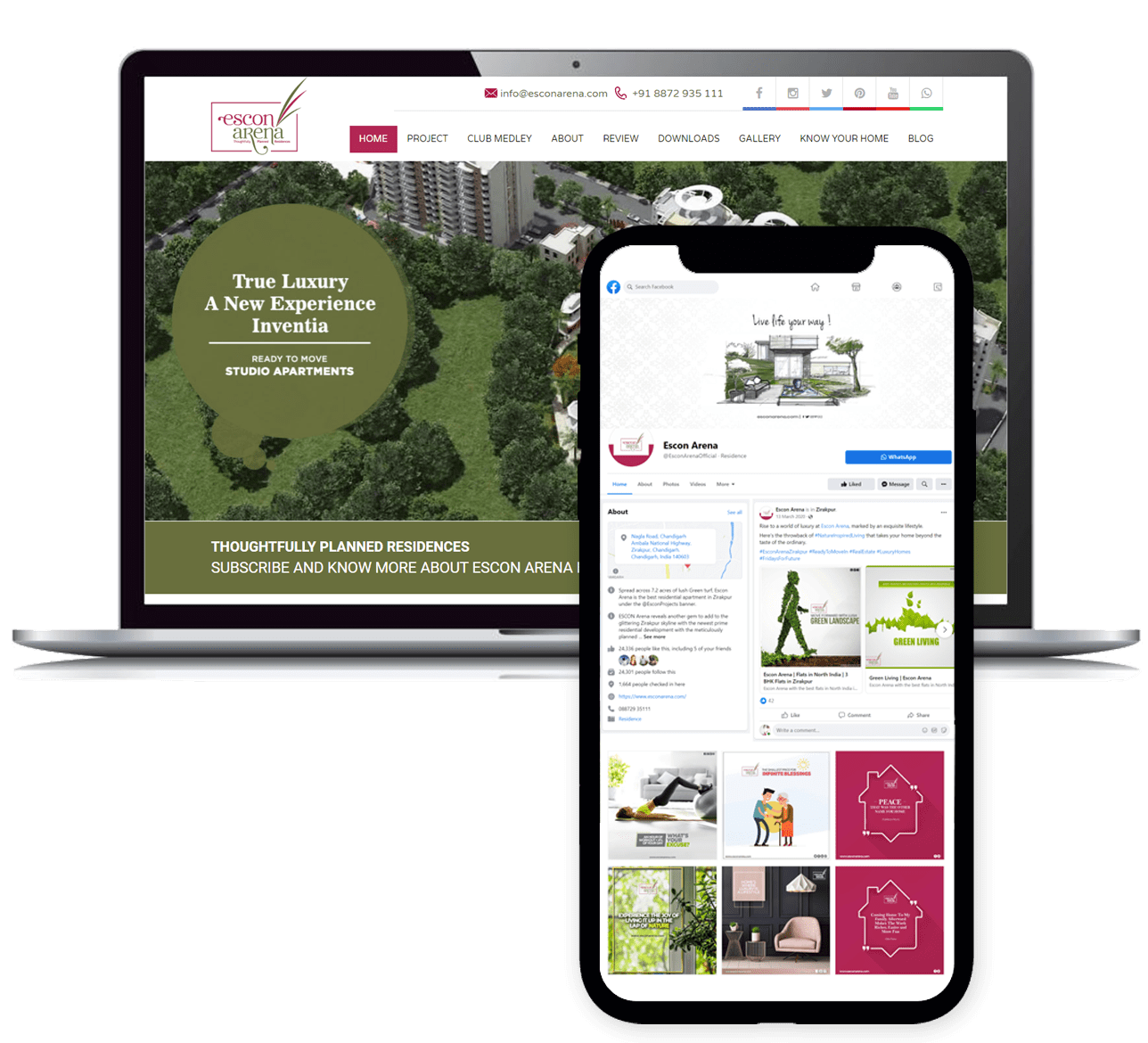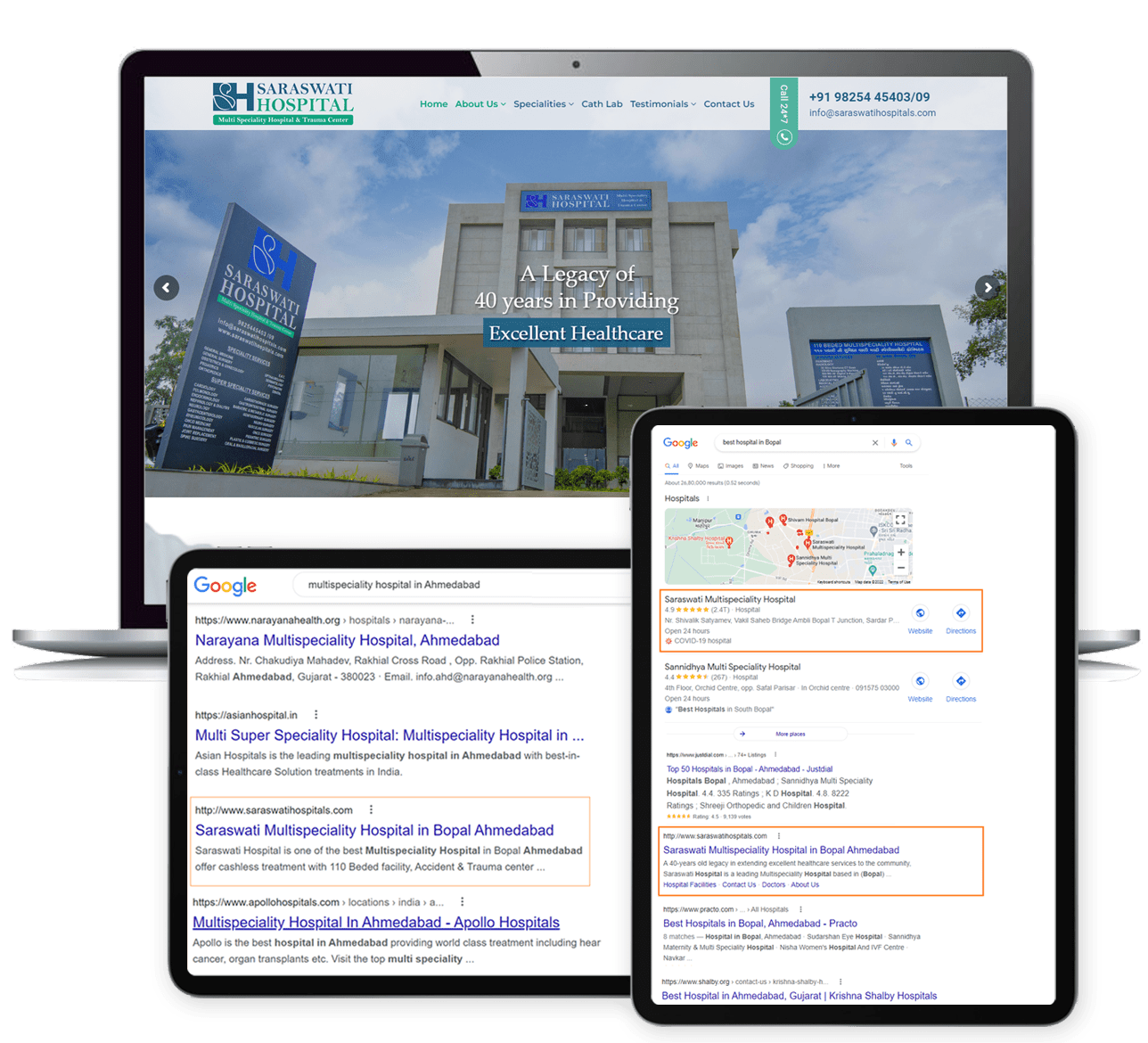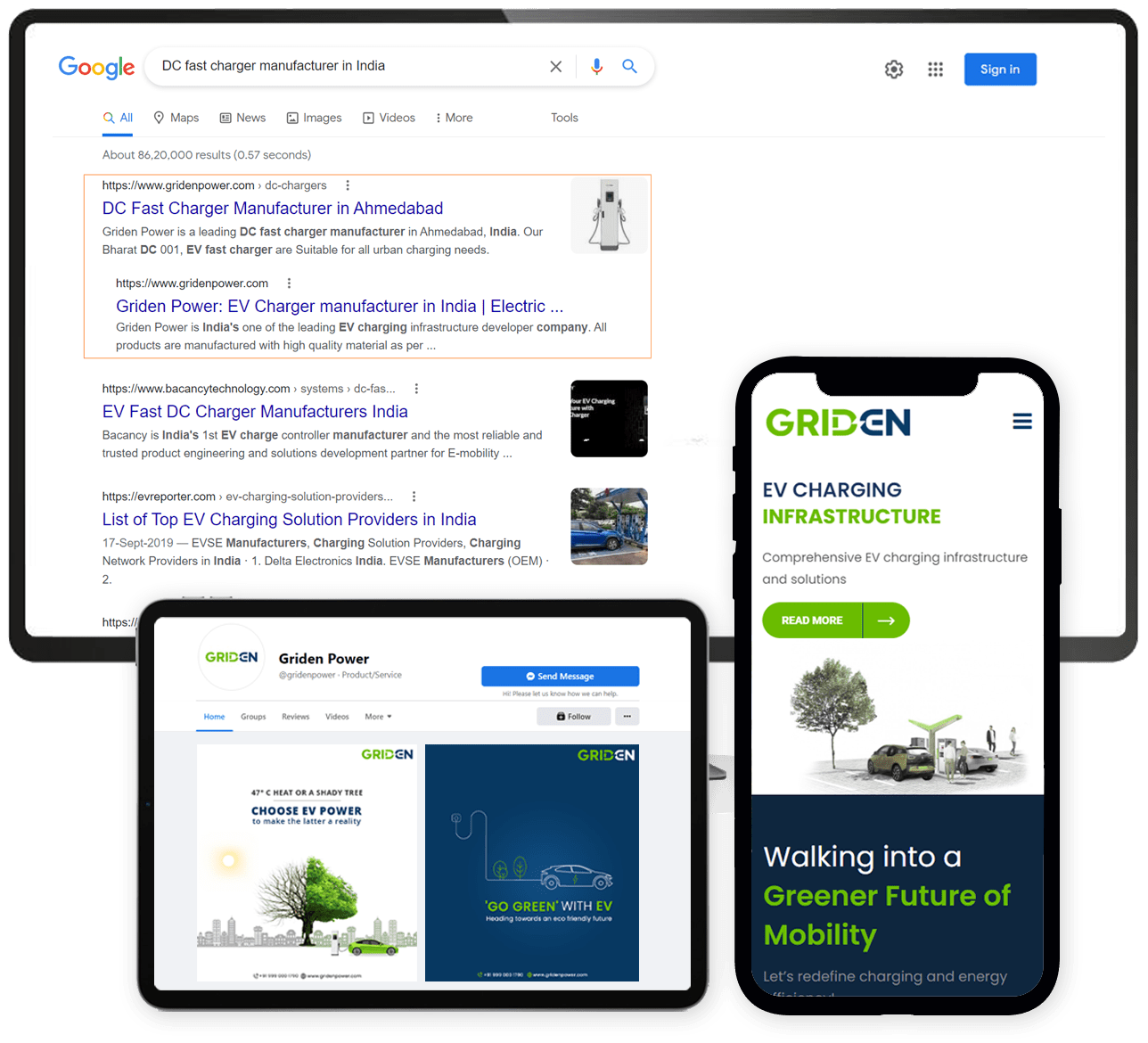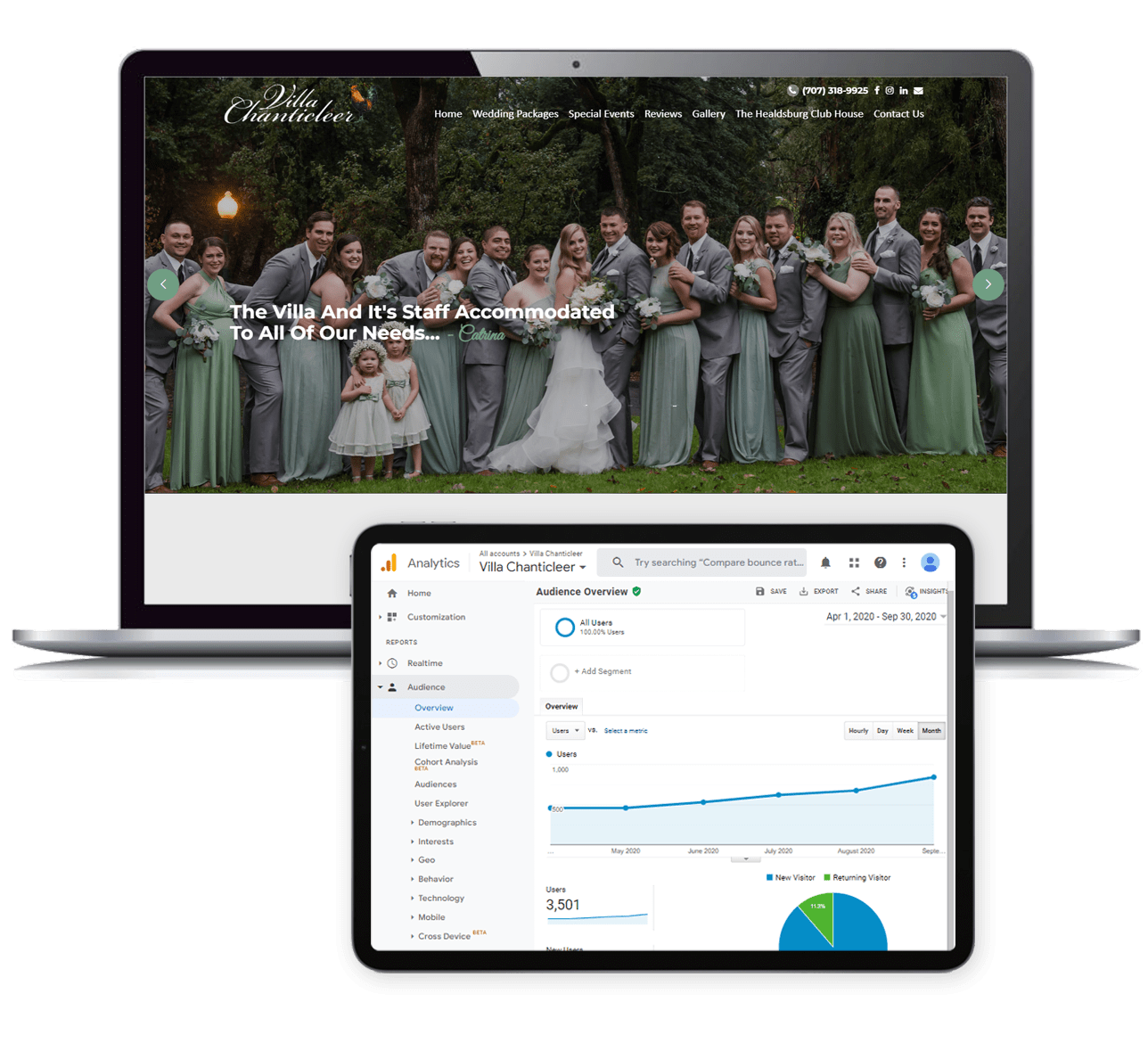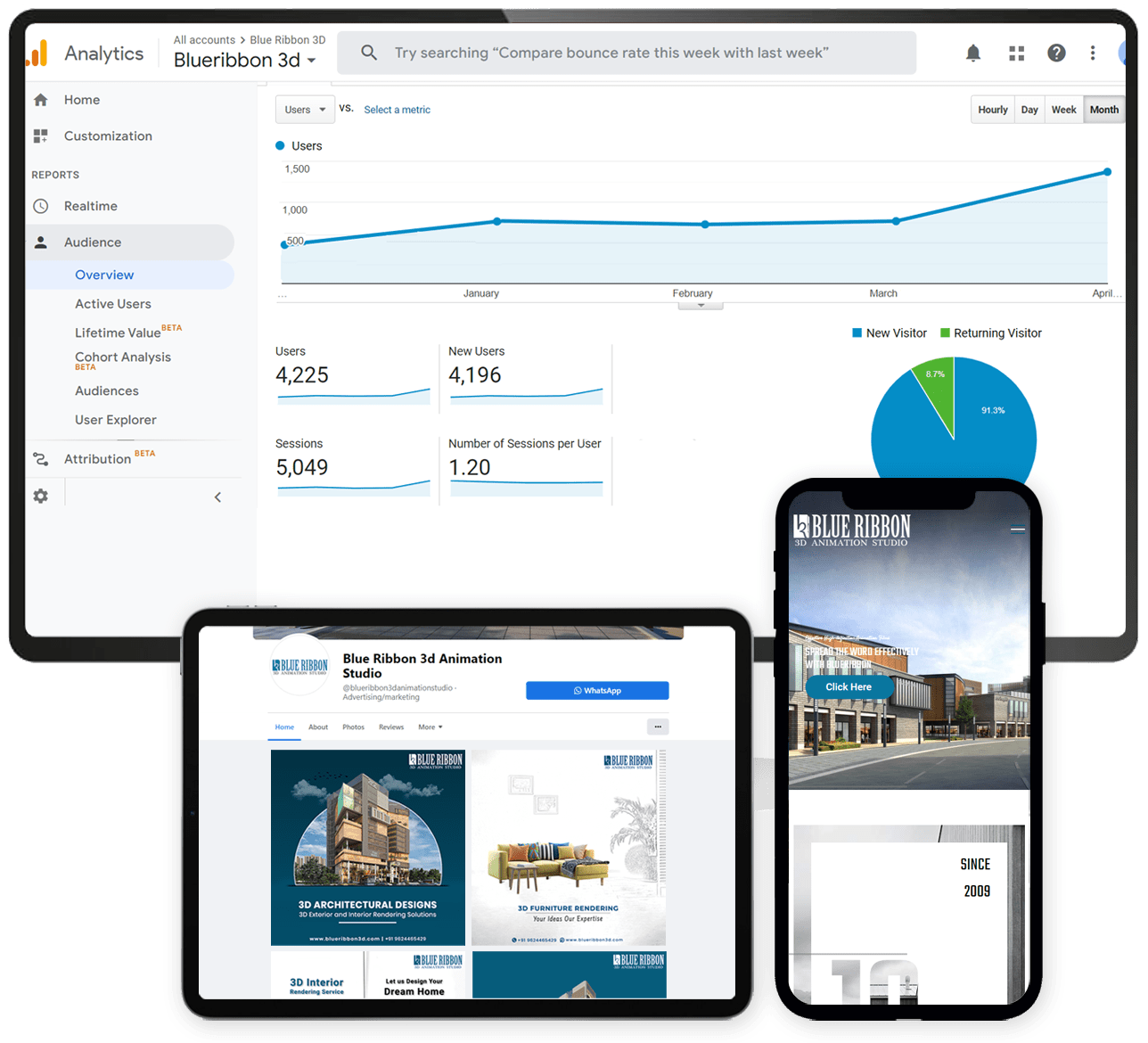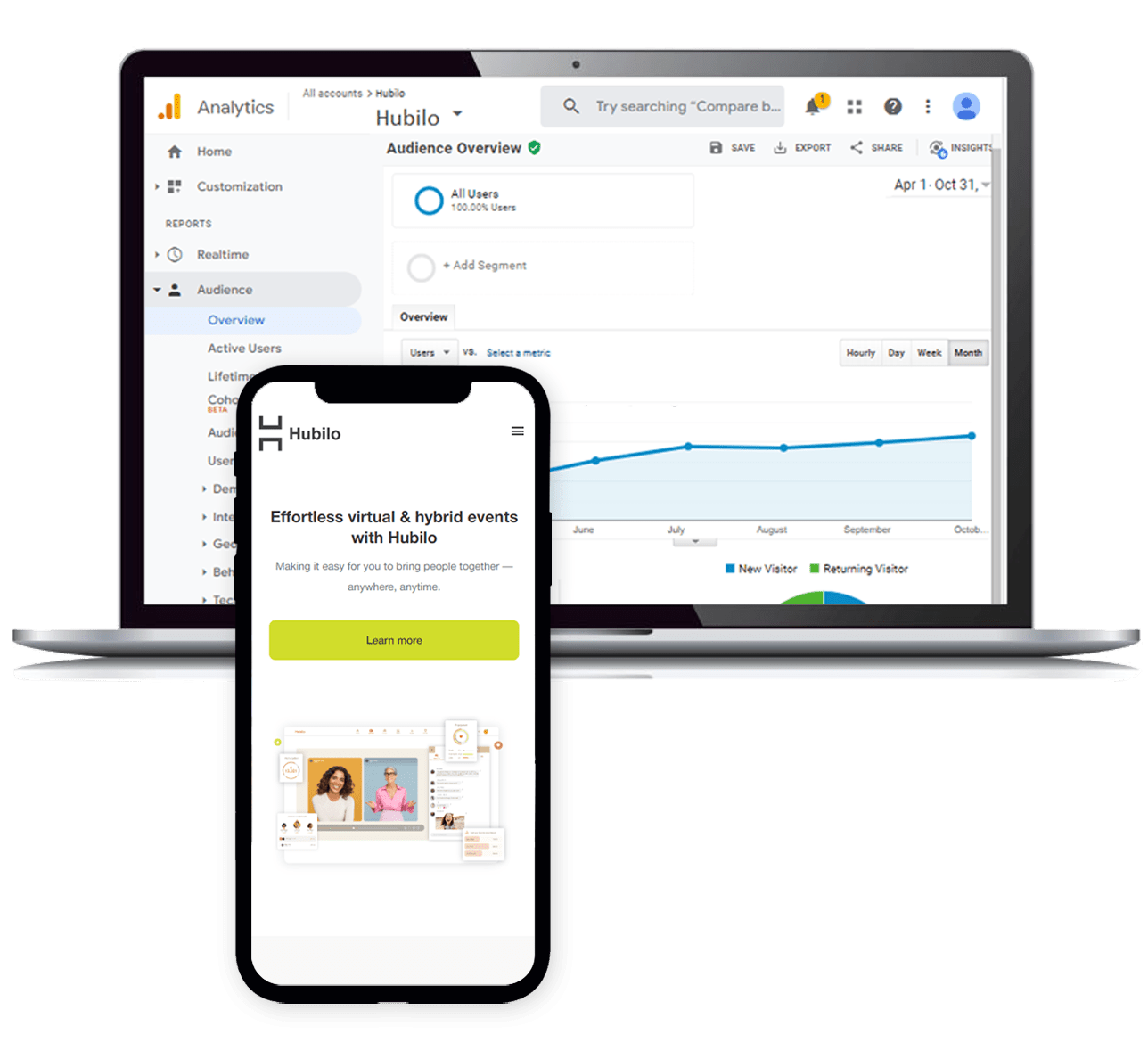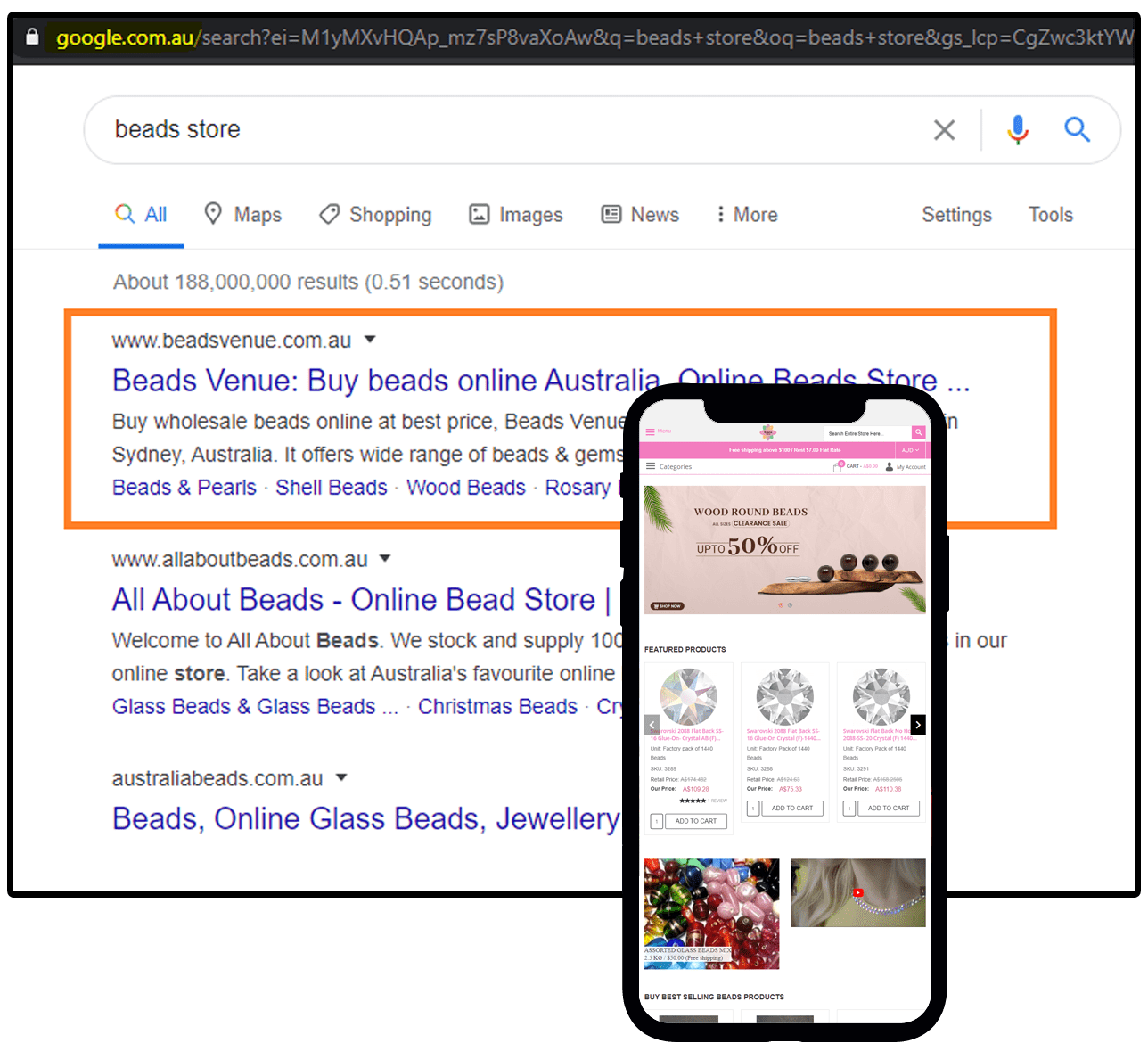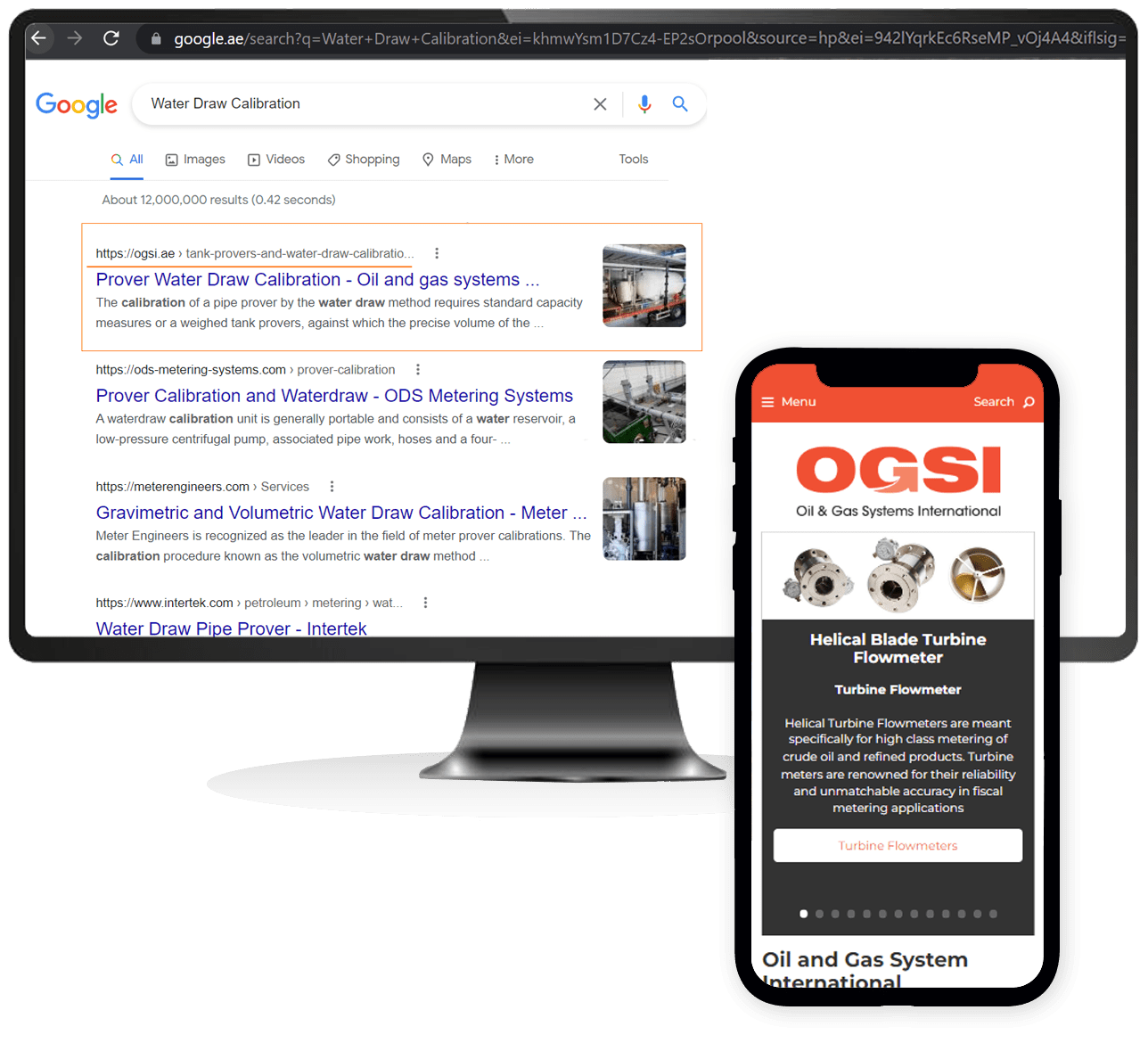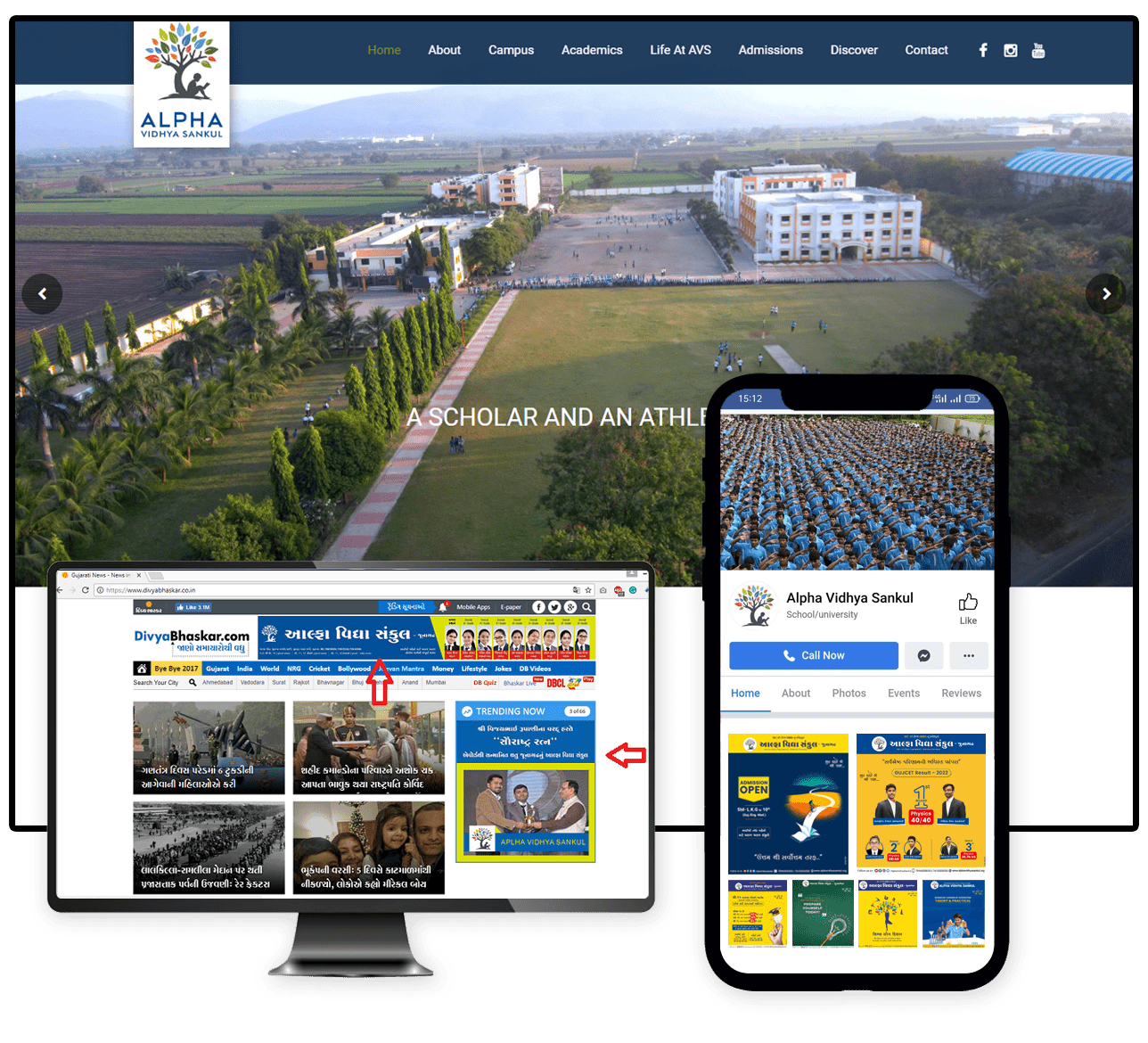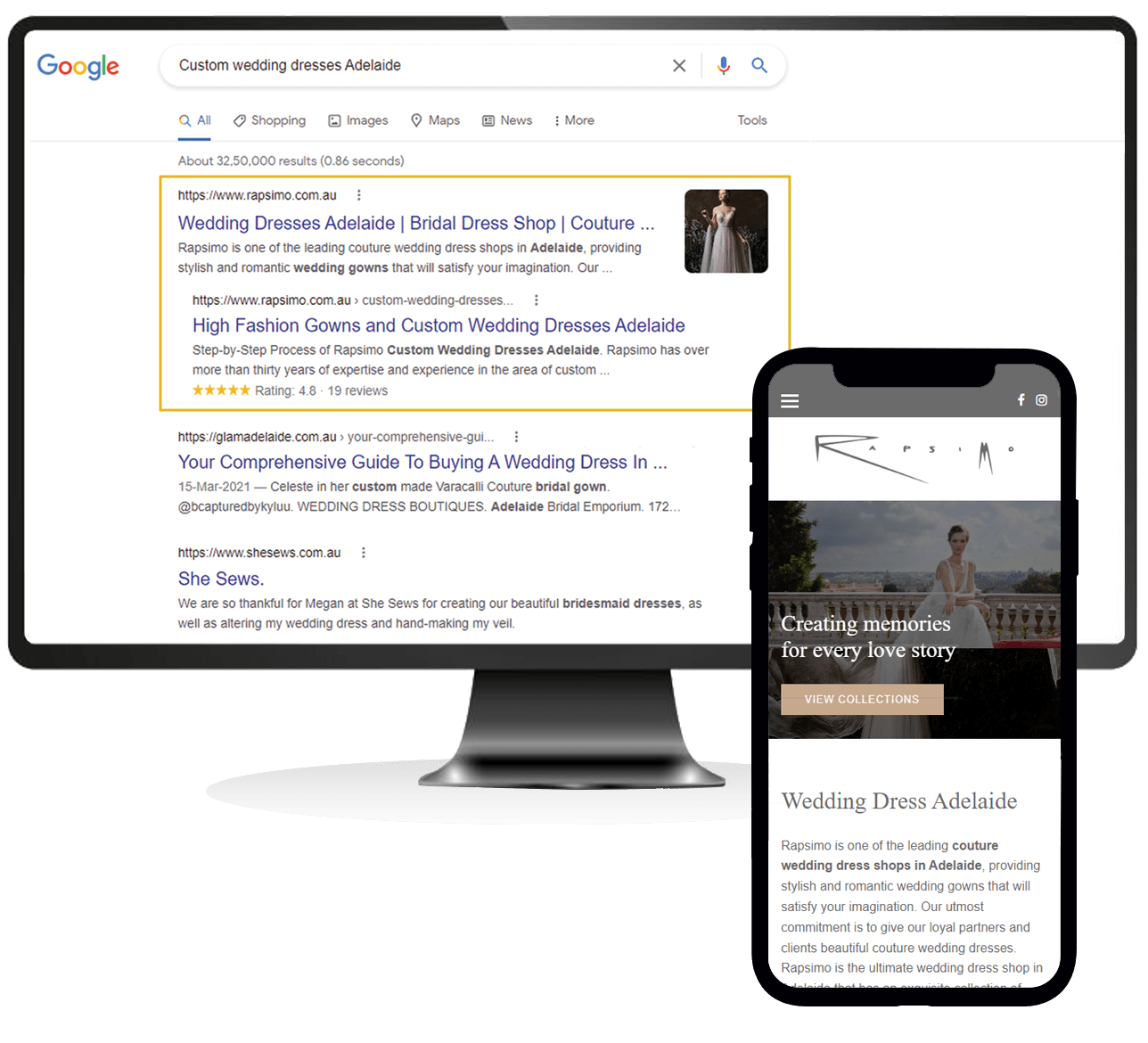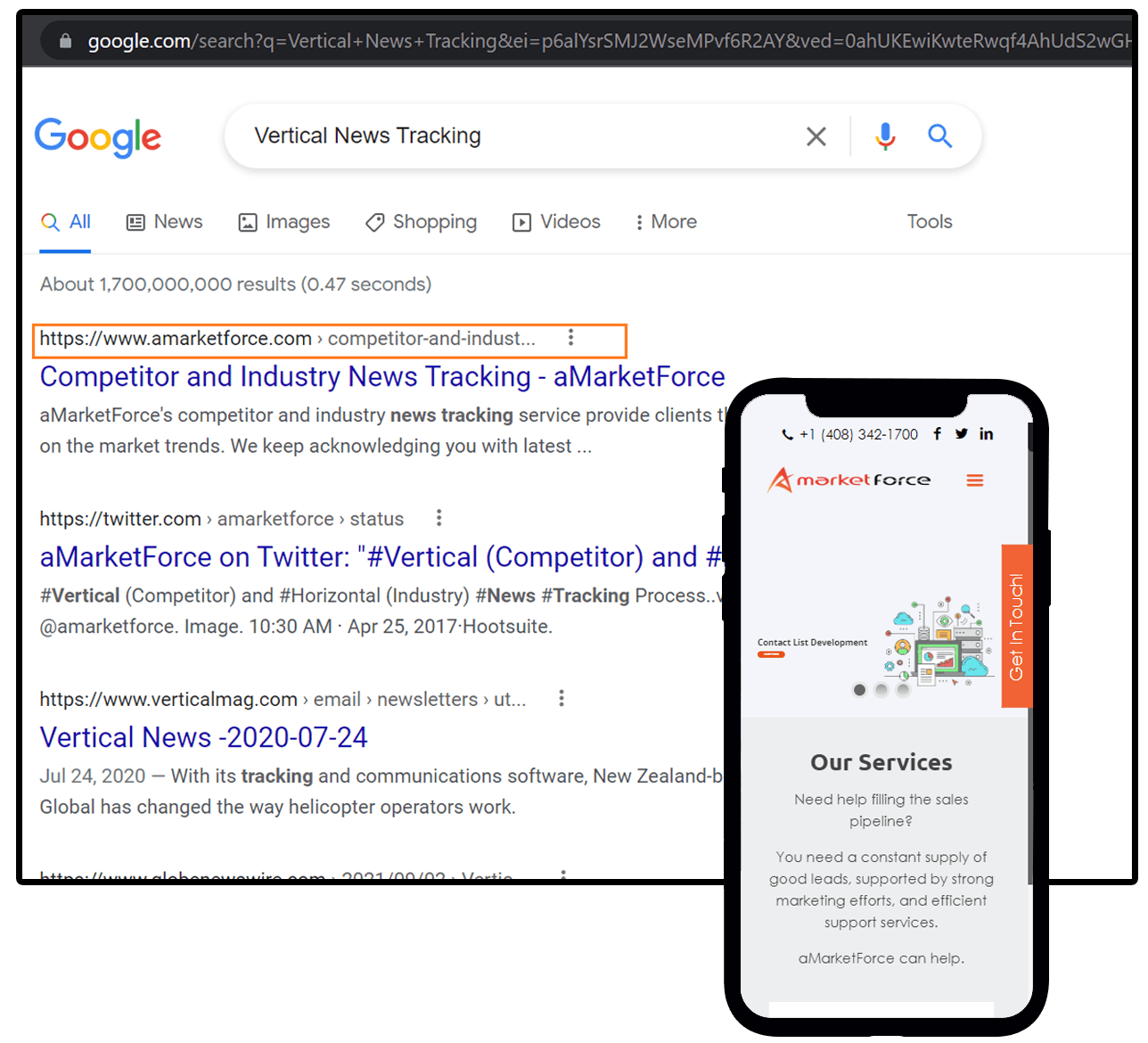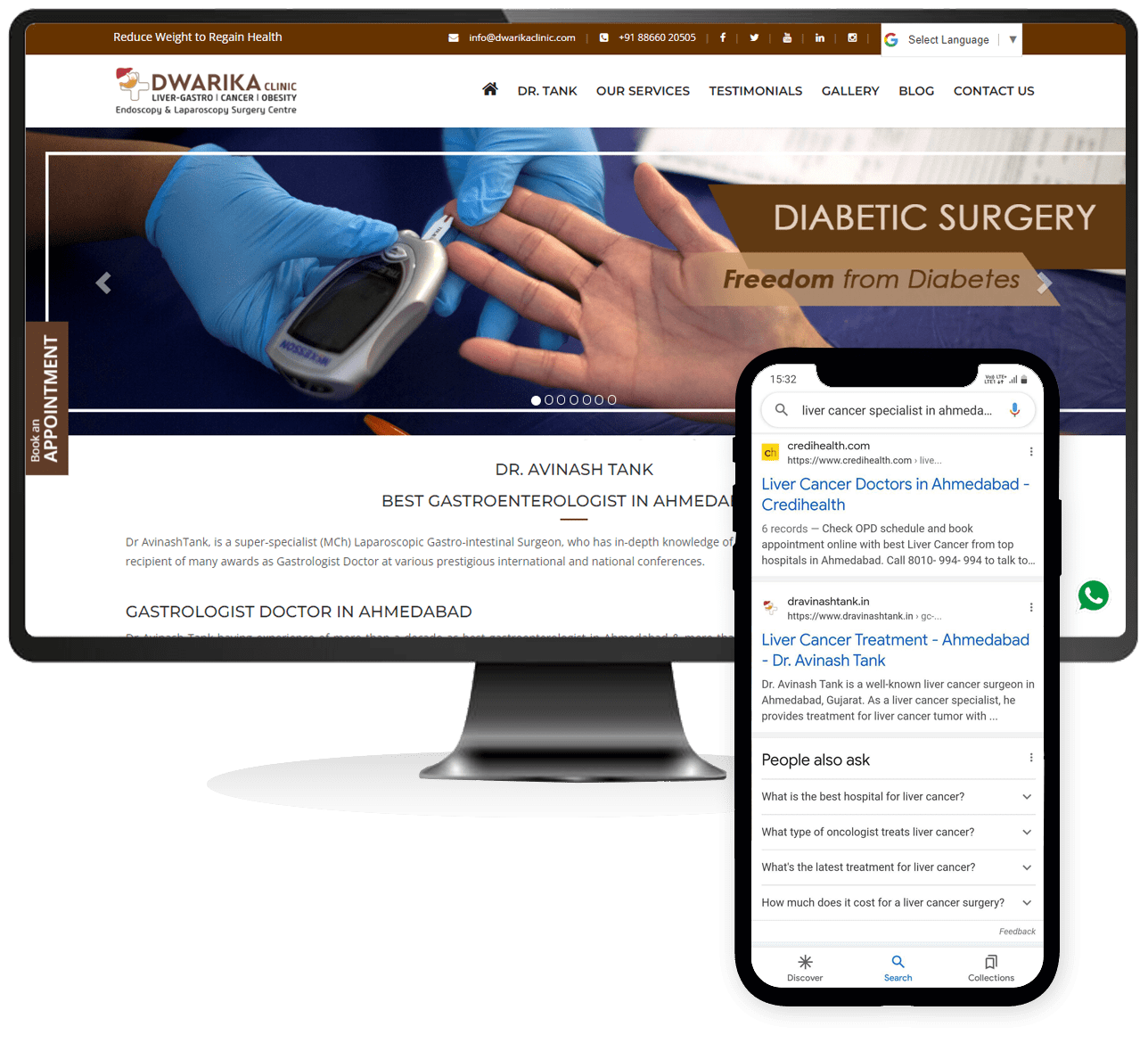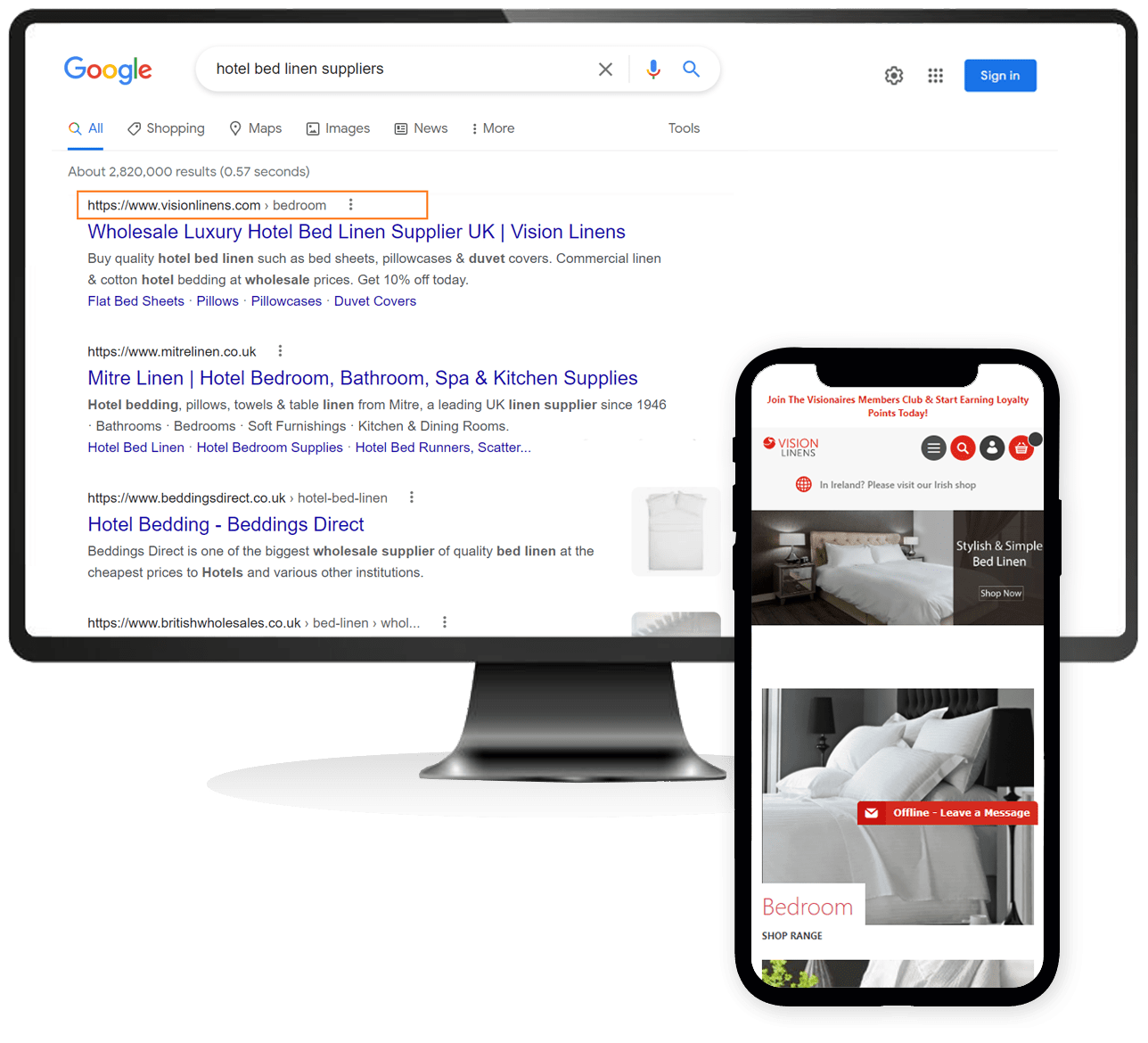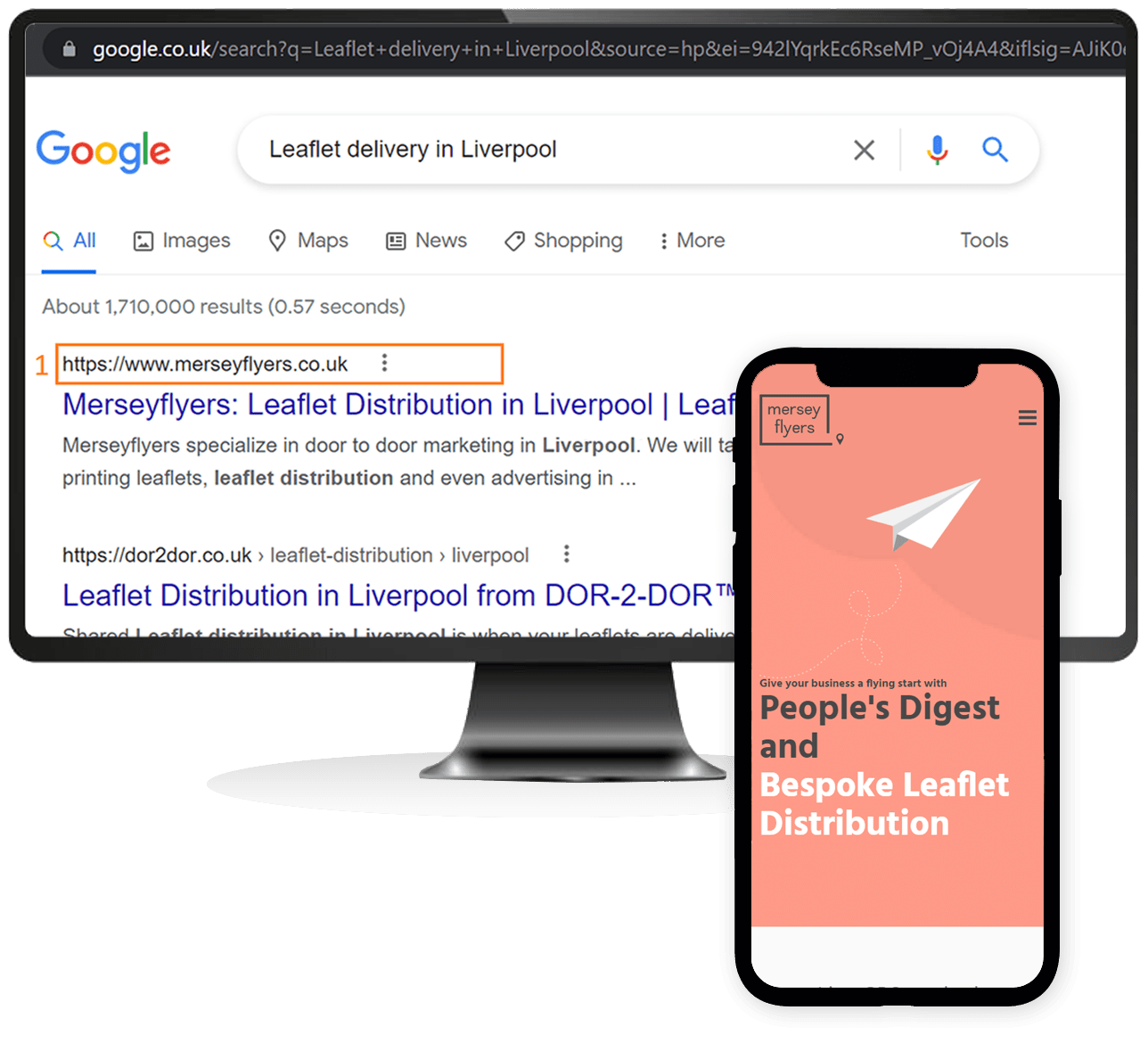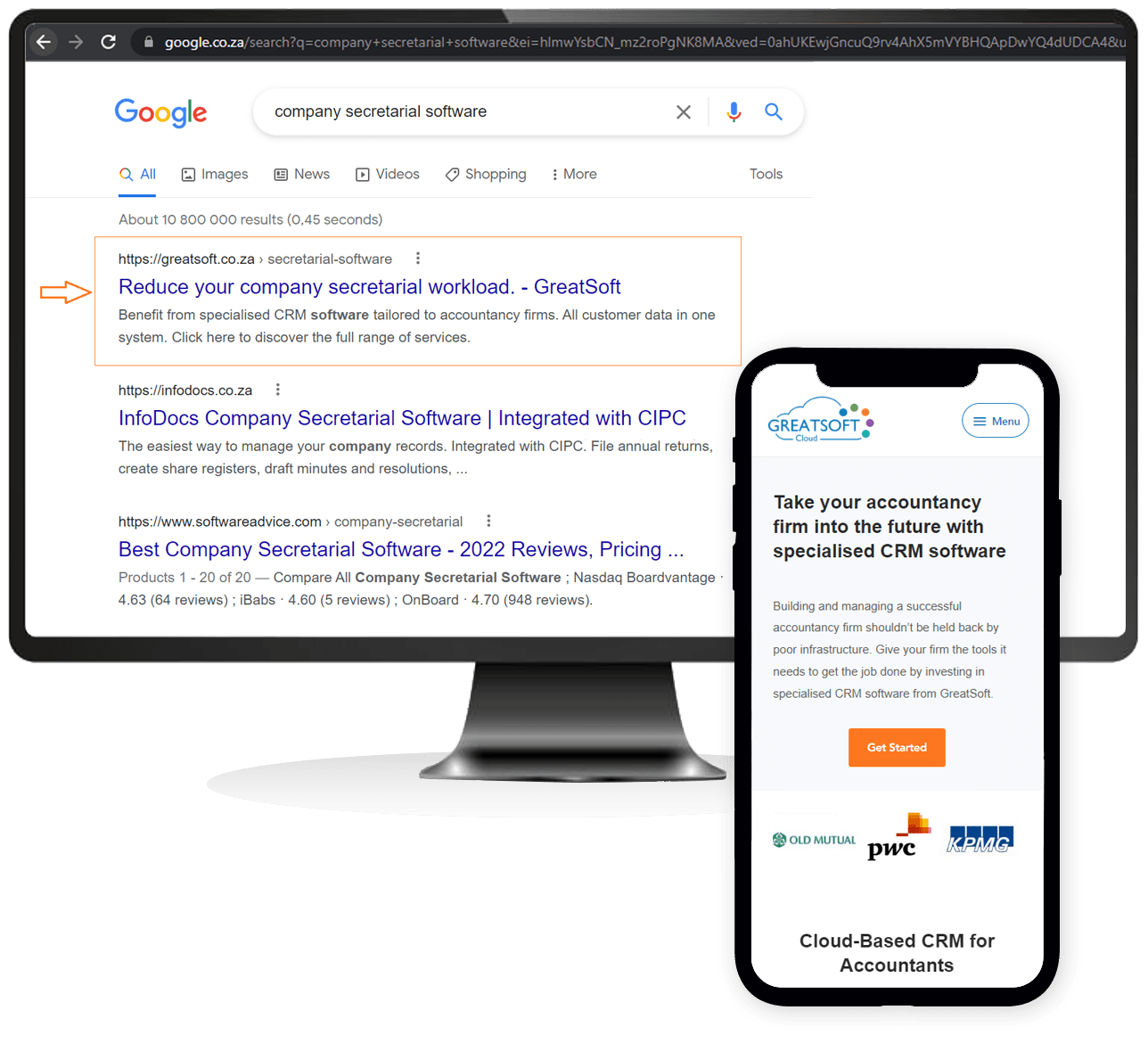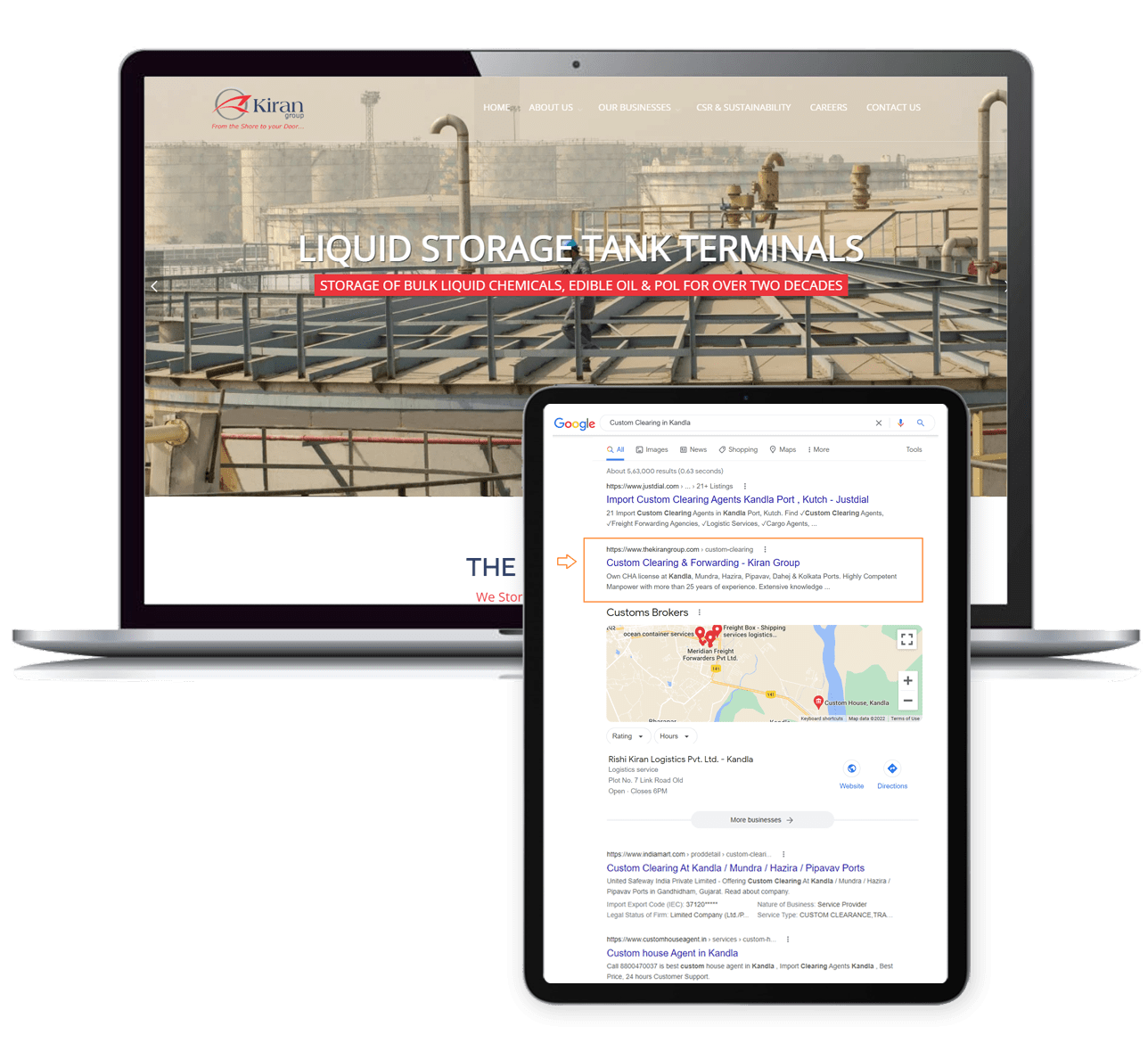 Azafran
Objective: For a renowned brand like Azafran, isolated digital marketing services is not applicable. The idea was big and the objective was marketing, branding as well as awareness for organic benefits.
Services undertook: Complete Digital Marketing
Result: As an outcome of our comprehensive digital marketing solutions, the organic product manufacturing company experienced mammoth digital growth. We designed an SEO-friendly structure of the website along with other activities and services.
Brand visibility
Increase in sales
Social media community growth
Strong and top ranking in SERPs
Shiva's Cafe
Objective: The fast-expanding cafe chain, Shiva's wanted to recreate their business image such that it can attract a set of customers of the city specifically. The idea was exceptional branding using social media.
Services undertook: Social media optimization
Result: AONE deployed their most creative minds to develop luring creatives that brought upon a large volume of followers, popularity and demand for the cafe. Today, it experiences enormous footfall at every outlet.
Kitchen Therapy
Objective: Food is the most enjoyable ingredient in the recipe of life. Building a community of people who celebrate food was the objective of our food blogging client.
Services undertook: Social Media Optimization
Result: AONE developed mouth-watering food creatives, and edited and created videos that lured food lovers to follow the page and channel. In a very short span, the number of followers tremendously increased allowing clients in achieving their revenue goals.
Escon Arena
Objective: For a real estate company, the digital marketing goal was to generate leads for their luxurious properties built in North India. We undertook social media optimization and marketing services.
Services undertook: Social media optimization & marketing
Result: To drive relevant leads AONE formulated an organic : paid ad strategy where organic content was aimed toward branding and Lead generation ads drove substantial leads for the luxurious property.
Saraswati Hospital
Objective: The digital marketing objective for an Ahmedabad-based new multispeciality hospital - Saraswati was to gain visibility on the web and achieve local and state-level branding. The route undertaken was SEO.
Services undertook: SEO
Result: An ongoing strategic SEO approach formulated by the team of AONE derived the client more than the expected results.
Top rankings on 50+ keywords
300% increase in the traffic
Griden Power
Objective: For an EV charging infrastructure company, the key to generating demand was awareness for their brand. Although, EV industry is still gaining momentum, the competition is fierce already. Hence, with complete digital marketing their goal was to create a strong digital presence.
Services undertook: SEO, PPC, Social Media
Result: AONE delivered extensive digital marketing services to Griden with our best practices laid forth. Not only did we leverage SEO but PPC to give the brand the boost required. Consequently, Griden achieved top ranking in Google, both organically and in PPC campaigns.
Increased visitors footfall to the website
Promoted business over the Internet
Campaigns generated leads and powered the website with relevant searchers
Villa Chanticleer (USA)
Objective: Competing and obtaining more bookings was the primary objective of the event and wedding venue business in the US followed by branding.
Services undertook: SEO & Social Media Optimization
Result: To accomplish the goal we provided SEO and Social media services wherein the former generated more inquiries and bookings and the latter reflected their beautiful venue playing the role of a hook to attract visitors.
Build business awareness
Gained significant bookings ongoingly
Achieved a top ranking in local searches
BlueRibbon 3D
Objective: India-based company 3D animation studio, had a definite objective to promote their services in the US. The purpose was to promote their services and build brand awareness in a foreign country.
Services undertook: Rigorous SEO and Social Media Optimization
Result: From SEO-friendly site structure to content distribution, AONE did an intensive SEO job to gain Blue Ribbon outstanding results in the SERPs while building an authentic brand image through social media.
Build brand position in the competitive market
Created a strong online presence in the US domain
Drove organic traffic to the website
Enhanced brand image with SMO
Hubilo
Objective: Online event platform to host and manage events had the need to compete digitally against leading brands while targeting an international audience.
Services undertook: SEO
Result: In our project span, we undertook on-page activities, link building and content marketing to achieve the desired results eventually. The outcome of our professional services resulted in
Top ranking on highly competitive keywords
Competing with leading brands
Greater online visibility
Increase in organic traffic
Beads Venue (Australia)
Objective: The one-stop beads supplier in Australia had a business objective to increase the sale of their precious beads and gems.
Services undertook: eCommerce SEO
Result: We started off the project by understanding their market, identifying the right keywords to target, optimizing their website and performing regular SEO activities that led to a remarkable result.
Top rankings on 150+ keywords
A significant increase in sales
More website visits
OGSI (UAE)
Objective: For the oil and gas systems manufacturer, gaining online visibility was the crux of the matter to stay ahead of the competitors and build a strong image.
Services undertook: SEO
Result: Oil and Gas systems are complex and to be able to achieve online visibility for them it was crucial to understand their systems thoroughly and produce sound content. Altogether, our endeavours were successful and how!
Increased web presence with 30+ top ranking keywords
Achieved ranking on challenging, short but highly competitive keywords
Alpha Vidhya Sankul
Objective: The school has embarked on a vision to educate and inspire young minds. Creating a digital impact was crucial to bring out their good work. The objective was to develop an image, connect with parents through social media postings and improve visibility with SEO.
Services undertook: Digital marketing services
Result: The school gained tremendous popularity and admission enquiries that kept increasing ever since we deployed our best practices.
Impressive social media image
Creative website identity
Increased visibility with SEO
Increase in enquiries and admissions
Rapsimo (Australia)
Objective: The couture wedding store in Adelaide wanted to gain local buyers by taking the digital route.
Services undertook: Local SEO
Result: To achieve the business objective we targeted relevant city-specific keywords, listed the business appropriately, and produced targeted and valuable content that brought us the desired results.
Top rankings in 20+ keywords
An increased footfall of shoppers
Generated 3x inquiries
aMarketForce (USA)
Objective: For a B2B marketing and lead generation service provider obtaining a high traffic volume to its website was important for the business. The objective was to do extensive SEO in the US domain.
Services undertook: SEO
Result: With on-page, off-page and content we increased incoming traffic significantly while achieving top rankings on highly competitive country specific keywords.
200% increase in organic traffic
Top ranking on highly competitive keywords
Dwarika Clinic
Objective: The gastro, cancer and obesity clinic in Ahmedabad competes with many prominent names in healthcare. SEO was a primary source to obtain the desired visibility on the web.
Services undertook: SEO
Result: We used Local SEO methods to improve patient registrations, which resulted in a massive rise in registrants.
Top placement for local keywords
An increase in patient appointments
Visionlinens.com (UK)
Objective: For a UK based linens company, the goal was to increase sales organically. The best alternative for organic digital growth, as we know is SEO.
Services undertook: eCommerce SEO
Result: We began the assignment by learning about their industry, determining the best keywords to target, refining their website for SEO, and engaging in regular SEO operations, which resulted in a wonderful achievement.
Top rankings on 150+ keywords
A significant increase in sales
More website visits
Impulse pain clinic
Objective: The only pain of the pain clinic in Ahmedabad was to promote their facility locally. That's where we stepped in!
Services undertook: SEO
Result: With just the right knack, AONE performed all the required SEO activities and business listings to help the facility gain patient inquiries and bookings.
2x increase in patient registration
Gained a reputation digitally amongst competitors
Increased the volume of website traffic
Mersey Flyer (UK)
Objective: Direct Marketing Company in Liverpool, UK lagged behind in the competitive market due to a weak digital presence. The challenge was to enable the company to thrive digitally.
Services undertook: Comprehensive SEO
Result: Encompassing all the areas of search optimization, AONE consistently performed all the authentic on-page and off-page activities along with keyword-rich content to help attain a remarkable result.
Top rankings on 20+ keywords
200% Increase in organic traffic
Robust digital footprint in 6 months
CISA (South Africa)
Objective: For a well-known lock security and access control system manufacturing company, the objective was to gain clear visibility on the web in the South African domain.
Services undertook: SEO
Result: As a consequence of our month-on-month SEO endeavours, the business website started to gain significant relevant visitors and also achieved top rankings on the country targeted keywords.
Top ranking in country specific competitive keywords
Surpassed competition on the web
Gained clear brand visibility
Raghudeep Eye Hospital
Objective: Situated in the heart of the city, Raghudeep Eye Hospital in Ahmedabad wanted to move past the conventional marketing methods and adopt the digital inbound approach to mitigate its promotional and sales needs.
Services undertook: SEO
Result: In order to increase patient registrations, we executed Local SEO practices which led to a monumental spike in new registrations.
Top ranking for local keywords
Increase in patient bookings
Evolved digitally
GreatSoft (South Africa)
Objective: Ranking in the African domain was the major goal of the software company. IT is known for its competitiveness and building a business image in a different country in this niche was the challenge.
Services undertook: SEO
Result: AONE provided comprehensive SEO services to the client which entailed competitive analysis, keyword research, determining buyer's persona, on-page and off-page activities and so much more.
Achieved rankings on highly competitive keywords
Built business rapport in the market
The Kiran Group
Objective: A logistics conglomerate established in 1982 has always stridden forward undeterred. With changing trends, the need for digital marketing daunts them and hence we help them establish a robust digital presence with our services.
Services undertook: SEO
Result: As vast as their business empire, AONE did extensive SEO to achieve top ranking on numerous keywords.
Years of rigor and quality work has brought us recognition amongst leading digital marketing companies of India in various domains.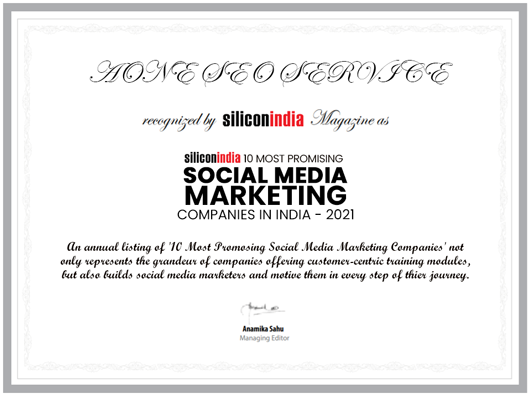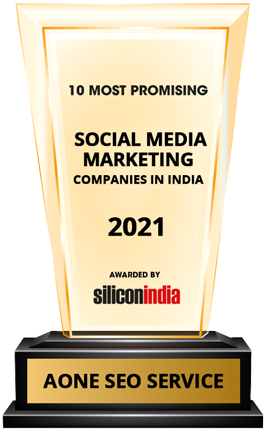 AONE started managing our brand's digital marketing and initially, we started off with SEO and SMO efforts. Through a strategic approach, they yielded great results and a strong online presence for our brand which made the decision of handing over the complete management of our online marketing to them including paid search and advertising
Pariniti Nayak
Our requirement was to create a strong brand presence on different social networks. AONE conduct research on our direct competitors and gave us helpful insights. Further, they offered us Social media marketing and Social media management that has attained us not just brand presence but also improved our sales figures.
Mona Khatri
They not only boosted our online presence but two-fold our lead generation. AONE delivers amazing results.
Divyesh Modi
AONE SEO is in the actual sense an A1 digital marketing company in India. Committed, strategic, and intelligent – they have promoted our brand greatly and helped create amazing brand rapport online.
Amelia Wood
Our start-up required a full-service digital partner. At AONE, we found the right ally. In five years of our association, we have seen measurable growth. We would say they are indeed Ahmedabad's best digital marketing agency.
J P Narayan