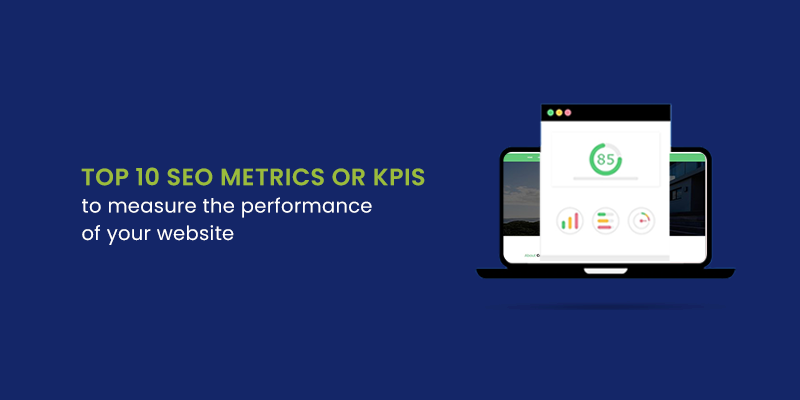 How do you know if your SEO strategy is working? Well, you need some solid SEO metrics that help you measure the results.
The reason for needing these metrics is quite simple – if you have factual data, you can analyze it and update your SEO strategies as and when required.
Also, SEO is the need of the hour today. In this competitive digital-savvy world, implementing SEO practices is a must if you want to stand out or even survive as a business. SEO is required to create brand awareness, whether you are a start-up or an established company.
While implementing SEO practices is step 1, you also need to keep track of the metrics to keep up with the dynamic demands of the viewers. So, as the best SEO company in India, we want to throw some light on the SEO metrics you should keep an eye on.
Our SEO report measures organic traffic, branded traffic, bounce rate, conversion rates, and CTR to help businesses know where they stand. Let's now get straight to the ten SEO metrics.
Organic traffic
This is one of the most important measures, as it tells you how many visitors come to your website from organic search results. After all, only if you know how many people are visiting your website can you dictate whether it needs some changes or is doing just fine.
Google Analytics is one way to measure this metric. With this tool, you can easily track daily searches on your website and get to know how many viewers visit your site through organic search. We can help you keep track of this metric to increase the number of viewers and engagement.
Search visibility
How do you know the frequency of viewers explicitly searching your domain? You can identify this through search engine visibility. It is a source of traffic that a website receives from its ranking.
It is beneficial since tracking the search visibility allows you to see the dynamics even before your website starts to have visitors. If your visibility score is low, you can use this information to let the viewers know where it goes wrong and how you can improve it.
 Moreover, you can link the search visibility against specific keywords. Doing so will give you helpful insights that you can use to adjust your strategy accordingly.
Organic traffic conversions
Why would you want to increase viewership, engagement rate, and other related metrics? Your goal eventually is to convert a viewer into a customer. Knowing conversions are essential, as they let you know your traffic sources, including organic ones. Tracking these metrics is what all businesses do today.
We measure this metric using Google Analytics which will accurately let you know the traffic sources.
Referring domains
A referring domain is where the backlinks come from. So, if you want to generate more organic traffic, you need to have backlinks generated from top referring domains.
A spike in referring domains indicates that your efforts to create brand awareness are heading in the right direction. Well, simply an increase in referring domains is not enough. You need to ensure that the websites linking to you offer some value, and you can do so by creating a referring domains report.
Keyword rankings
This metric lets you know the keyword rankings that refer to a website's organic rankings in the search results. Well, if your keyword is relevant to your product, you are more likely to rank well on Google. Over time, tracking this metric will let you monitor your SEO performance for the top searched keywords. 
Number of indexed pages
This metric lets you know the number of pages a search engine has in its index. Google has approximately 35 trillion web pages across the internet globally.
Usually, you want to see the number of indexed pages constantly rising as you keep publishing new content. It would help if you got your pages indexed so that they can appear in SERPs and drive organic traffic. So, if the number of submitted pages matches the number of indexed pages, it means that 100% of pages are indexed.
Number of clicks
This metric lets you know how many people have clicked on your website. After all, you want organic traffic, which is the best metric to determine it. So, if your number of clicks rises, the organic traffic will also increase. This is an essential metric from an SEO perspective since it directly shows whether your SEO efforts are working in the right direction.
Click-through rate (CTR)
CTR is a ratio of the number of clicks your ad receives to the number of times your ad is shown. In simple words, the higher the CTR, the higher the traffic.
We use Google Search Console to view and track this metric. If you notice a low CTR, it means your content is not fulfilling users' expectations, and you need to make changes in your content and SEO strategy, too, as it may result in low rankings.
Branded traffic
This type of traffic comes from users who explicitly looked for your company name. If you are a small business aiming to create brand awareness, then this is your primary KPI. Users mostly know what they want to search for when they search for branded keywords. This type of traffic usually drives higher conversion rates, so it is crucial to keep an eye on this metric.
We use Google Analytics or Google Webmaster to measure this metric. This metric indicates if the audience is aware of your brand or not.
Bounce rate
You may come across visitors that leave your website without taking any action. There could be multiple reasons for this – your site is poorly designed, the content lacks quality, your business mission is not clear enough, etc. This means there is something on the website that needs to change.
The search engine considers this a crucial metric as a ranking factor. We measure it by Google Analytics. No matter the industry, a bounce rate typically should range between 40% and 60%. If this percentage is too high, it may indicate that your webpage is unrelated to the search query.
Wrapping up
Hopefully, you now understand the SEO metrics and KPIs to keep an eye on, as they will let you know whether or not your SEO strategies are working. As a digital marketing agency in Ahmedabad, we can help you not only market your business but also help it rank higher on Google. So if you are a start-up or an established business looking to better your SEO efforts, feel free to reach out to us!