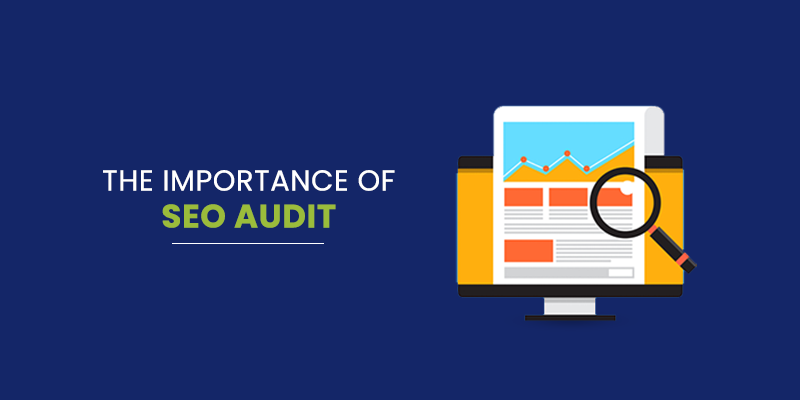 SEO, an acronym popularly used for Search Engine Optimization, drives Google search page results. It is a process driven by multiple factors that influence the SERPs. The ultimate aim of SEO is to enhance your local business ranking and make the page easily discoverable with the help of optimizing technical configuration on the website, generating backlinks, and adding relevant content per your industry standards. There are multiple benefits of backlinks & adding relevant content.
It involves the usage of relevant keywords, meta descriptions, and headlines with optimized content, allowing the surfer to quickly look for the information they need while benefitting the business with enhanced page rankings. In layman's language, it creates an influx of traffic for your business.
That's it for the meaning of SEO. It's now time to understand SEO audit, which is used to improve business rankings and positioning.
What Is Site Audit In SEO?
It's the report card for your website. To simplify it, an SEO site audit is done to evaluate your site's overall performance and status on the web and find strategic and technical loopholes. Exploring them will help evaluate site tactics for better standings on search engine result pages (SERPs). It primarily conducts SEO activity towards the more essential rankings and relevant traffic goals. Now that the question of what is clear, let's move on to why.
Why Do You Need An SEO Audit? 
Let's consider that you already lead on the SERPs. But as the best SEO company in Ahmedabad, we would still recommend you go for an SEO audit. Justifying the statement, we have listed some reasons showcasing the importance of SEO audits.
Please continue reading to know why it is beneficial for your digital presence.
1. Maintain a competitive edge in searches 
The world has evolved, and so have SEO and SERPs!
SEO audit helps optimize websites, giving you a competitive edge over other players in the industry. It increases your chances of appearing in the top 3 results, giving you a chance to slice 33% of the organic traffic.
The higher you rank, the better visibility your business enjoys. It further helps create a brand image and indirectly enhances your sales rate.
2. Content and site optimization 
To survive in this competitive world, change is essential. But to change or update website content and structure, an SEO audit is essential.
It helps you understand loopholes and create content strategies useful for website optimization. The direct reward of a correct implementation is your website's performance potential and, indirectly, its business leads.
3. Understand conversions
Analyzing the site for SEO performance increases the chances of finding and understanding sales or lead opportunities. You can also figure out underperforming strategies that can be corrected to improve the site conversion rate.
What To Include In Site Audit? 
Now that you are aware of why an SEO audit is important, let's explore the elements involved in it.
1. Site health audit
Websites act as your brand's virtual representative. It may not request sick leave, but it might be sick regarding SEO practices or rankings. A sick website will neither appear when a user searches general industry-related keywords nor will it engage the visitors.
Therefore, regularly checking the site architecture, usability, links, meta descriptions, and other factors affecting the functioning or search of a website is essential to identify any causes of concerns that might lead to a complex problem.
Constructing a roadmap while monitoring the site is essential to enhance the web experience, increase leads and bring in new business.
2. Site security audit
Keeping a check on your website's security is protecting your IT framework. The site security audit evaluates web files, core, server, and plugins to determine vulnerabilities and loopholes.
The security audit includes assessing dynamic code, configuration, and penetration tests.
Regular site security audits are essential to protect your brand/business from reputational loss, financial damage, and hacking. The process also administers guarding strategies while providing overall safety to the website.
3. Conversion rate optimization audit
Customer Rate Optimization (CRO) is a process of understanding the movement of customers on your website. It can be monitoring their actions on the site or determining reasons for leaving without completing any action. The process also includes idea generation for potential areas of improvement on the website.
CRO is important as it will help you reduce the cost of consumer acquisition by extracting higher value from current visitors. The conversion rate is obtained after dividing the number of times a user completes an action by the amount of web traffic.
Overall, CRO optimization can increase return on investments, customers, and earnings per user and help scale your business.
4. Google penalty and recovery audit
Manual actions or Google penalty negatively impacts the website's ranking considering the updates in Google's search algorithms.
A person manually checks your website to determine whether or not it complies with the Google Search Essentials. Any failure in doing so might lead to a penalty. It is possible to recover from the penalties only after solving all the errors.
Finally, evaluating and solving google penalties is essential to protect your business from losing web traffic or revenue.
5. Competitor's website analysis
Every brand is in the SEO race to achieve the trophy of Google page 1, aiming to increase web traffic and conversion. But to win that race, it is essential to understand your SEO strengths and weaknesses along with analyzing the competitor's strategy.
This process helps identify the current industry search trends for crucial keywords concerning the market and competitors. It will also help you discover;
Competitor's strategy
Gaps or loopholes in the industry SEO strategy
The SEO scope of improvement
While no rulebook exists to conduct this analysis, a step-by-step process mentioned below could help.
Scrutinize your competitors
Select your actual competition
Evaluate competitor's top web pages
Identify ranking keywords
Individual page analysis
Review backlinks
Examine the content structure
Discern and select a search feature to focus
6. Backlink Audit
Backlinks refer to all the external links that point to or redirect a user to your website. These links can be positive and negative, ultimately raising the need to find those links and formulate a strategy to deal with them.
A quality or positive backlink is a genuine redirection from an authoritative domain to your website. A toxic or harmful backlink is an unethical implant undertaken by the business to enhance rankings.
The backlink audit is essential to determine the position and authority of the website. However, the duration of the process depends upon the number of referring domains your site has.
Best Tools For An In-Depth Site Seo Audit 
There are several website audit tools available. However, to simplify it, we have listed the most relevant ones below.
1. Deepcrawl (Lumar) 
Deepcrawl, rebranded as Lumar, is an impressive SEO platform that crawls websites and helps analyze website architecture. Coming to the software's goodwill, giants like Adobe, Microsoft and Deloitte trust it. Developers and SEO specialists use this software to scrutinize the site environment, assess data, administer backlinks, keep track of external websites, and structure the sitemaps as required.
The software's bowl of traits helps derivate logical data, identify growth areas, and potential suggestions that further improve the overall page health, increase web traffic and enhance rankings. The software uses tools such as Google Data Studio and the analyzed data to simplify information.
Overall, Lumar offers technical SEO solutions; highly suitable for agencies, publishers, e-commerce, and enterprise branding. It is a paid tool with custom pricing for businesses, and to determine costs, you must fill out the form on their website.
2. Google Search Console
A Google SEO tool for fruitful results.
The Search Console by Google is an efficient tool for managing web traffic, site monitoring, and optimization. This free software allows the web administrator to enhance the overall health and web performance with the help of in-depth analytical checks and reporting concerns that need immediate attention.
Services such as site mapping helpful for crawling allow users to enjoy the privilege of optimizing content as per the web traffic, analyzing website responses, and making changes wherever necessary. Moreover, the software provides automatic alerts which hint users to solve essential bugs and issues that require immediate attention.
Altogether, this free software is famous for its assessment which allows owners to access Google's eye view of their site along with errors, speed reports, loading time, and much more. It also reveals whether or not Googlebot can find and crawl your site.
3. Gtmetrix
GTmetrix allows users to monitor and analyze web performance focusing on site loading time. With the software, it is possible to conduct a site test across browsers, regions, and connection speeds and evaluate the performance concerning website vitals (LCP, TBT, CLS), waterfall, video, and report history.
It is a popular website analysis tool that allows you to track web performance regularly. You can use the mail alert feature to receive notifications if the performance drops. The performance email comprises an in-depth report to give you a clear idea of things that are not working.
Known for its ability to examine performance factors quickly and effectively, GTmetrix allows you to scrutinize web performance across 22 global assessment areas to ensure the website loading time is quick for every visitor and device. It is a paid software offering individual, business, and custom plans.
4. SEOmator
SEOmator is a craft of SEO and SEM industry experts for the workforce of their industry. It is another easy and smart tool for SEO audit, monitoring, and creating white label reports, including analytics, comparing domains, and overall SEO analysis.
As a user, you can closely observe backlinks, keywords, AdWords, SERP details, and competitors' positions. Recommendations accompany the comprehensive data, making it a go-to tool for monitoring website projects daily. The paid software includes various reports such as microdata, social, and others. SEOmator offers three plans, namely lite, standart, and advanced, priced according to the number of projects and features.
5. SEMRUSH
SEMrush is yet another SEO platform that allows you to analyze competitors' policies along with insights about their rankings. Advanced software traits and tools provide organic research concerning competitors' budgets, advertisement strategies, most valuable keywords, and more.
The backlink characteristic allows in-depth analysis of links, determines the authority of the referring domains, and identifies the geolocation of your links. The improvised research features help identify accurately connected and long-tail keywords, which is also beneficial for PPC campaigns and SEO.
The software includes three plans: pro, guru, and business. These plans include log file analysis and site audit that helps you analyze and improve website security issues, AMP concerns, and more.
6. Screaming Frog
Don't judge the software by its name; it still is an up-to-date SEO website audit platform or tool highly useful to crawl large and small websites, ultimately eliminating the labor work of skimming and scanning pages manually. This also eliminates the chances of missing any page duplication, redirect, or meta refresh issues.
As a user, you can view, analyze or filter the collected crawl data as it is regularly stored in the program's UI. Another advantage is that you can export important onsite SEO components, including URLs, page titles, meta descriptions, headings, and much more, to a database that can be used for SEO recommendations.
It offers both free and paid services. Screaming Frog's free version includes features like identifying dead links, creating XML sitemaps, and more. The paid version will allow you to access features like rendering JavaScript, planned crawls, and more.
7. Oncrawl
Acquired by BrightEdge in the first half of 2022, Oncrawl is a leading SEO cloud-based crawler popular for its log file analysis. It determines the technical data to analyze websites, ultimately increasing return on investment and taking steps to climb the ladder of a successful business.
The major offerings of the software include an SEO crawler which helps store and access the data at a central location, customize settings, and map web addresses into subgroups, groups, and segments. Another essential feature is the SEO log analyzer, which traces crawlers to assist the log file analysis. The third is Oncrawl API which allows users to access the software's API as a reference to develop their custom dashboards.
Overall, the software combines external and natively determined data with the help of scalable analysis algorithms to visualize, quantity, and prove technical SEO valuable. The software offers three packages, explorer, business, and Infinite & beyond, with varying features and prices depending on the business's needs.
8. Google PageSpeed Insights 
Google deserves a big thank you for developing yet another free SEO software called Google page speed insights that concludes the web performance for mobile devices and desktops while recommending suggestions to improve the web results.
The data includes field and lab information, which is accumulated in a supervised environment and aids in debugging various concerns. Whereas the former captures real user experience with limited metrics.
Overall, it analyzes the factors slowing your website and generates scores and suggestions accordingly.
How To Do A Website Audit
There are two sides to a coin and two ways to complete your website audit.
Therefore, the first option of online SEO tools provides limited access to data and recommendations in their free version. Even if you use a paid version, concluding the reports will be a task due to the enormous knowledge gap and your understanding of SEO. Remember, the world of SEO is not as easy as it looks; it's more than just keywords!
However, if you wish to get an in-depth analysis, practical recommendations, and SEO strategy, choosing the second option of consulting a top SEO company or professionals is highly recommended.
How Long Does A Website Audit Take?
A professional site audit involves a lot of factors. Generally, it can range between 2 and 6 weeks, depending on the site scope and the number of web pages to scrutinize, tools deployed, and more.
Are You Ready For A Site Audit? 
After briefly understanding an SEO site audit, you have an idea of what it is all about and how it can help you scale your business. It is also noteworthy that, unlike a manual audit, a professional site audit can give you a perfect analysis and recommendations and an effective future SEO strategy.
Remember, the health of your website is your wealth!