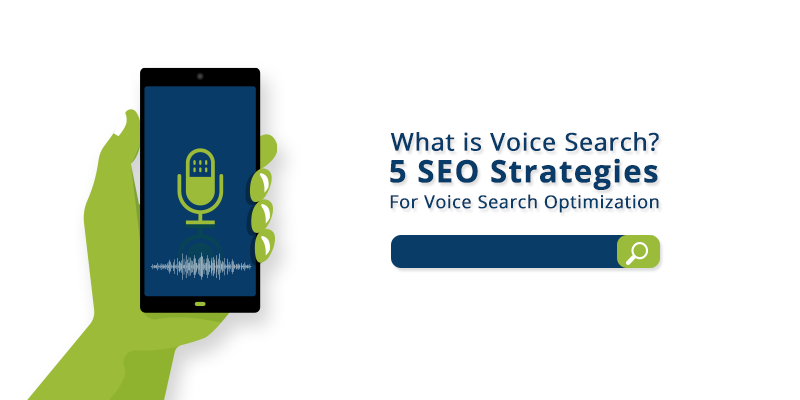 Are you not receiving traffic to your website? Maybe it's time to optimize for voice search.
The history of voice search goes back to the 1950s, however, it is since 2011, that we see a surge in its applications. Today, 71% of users like to search a query using voice instead of typing. Further, Google reports, approx. 27% of the global web population use voice search with their mobile. Lastly, based on Bright Local's report, around 51% of shoppers claim to use voice search to find local businesses near them.
What do we understand from this? Well, in order to optimize for the voice search you need to optimize for voice commands, mobile and local search as well. Let us start by understanding what is voice search and moving to strategies for voice search optimization.
Voice search
Searching the Internet using speech is called Voice search. A gadget such as a mobile phone, a tablet or so, can determine your speech and place the query in a search engine by means of AI (Artificial intelligence).
It is the practice of optimizing your pages to appear in voice searches. In other words, when you optimize for voice search, you're optimizing for how people search with verbal commands. You may have your pages read aloud by a voice device if you use voice search optimization. It is now mainstream and one major reason behind this widespread adaptation is the availability of technology with numerous devices. Here are some of the most common ones:

As the best SEO consultant in Ahmedabad, here we have put down some effective strategies for voice search optimization. If you wish to get experts on board, feel free to drop us an email at info@aoneseoservice.com after your read.
Optimize for local searches
46% percent of all the voice searches are local. If you are a brick-and-mortar business then you ought to optimize for local voice search. It will help you increase the flow of consumers such that when they search for a local business "near me" and you appear in the recommendations. Local SEO works on the same principles but emphasizes expressing yourself as a local business to the audience through your content. Here are 3 tips:
Include words that describe your localities such as a famous building or anything else.
Use terms like near me, in city name, in area name within your meta, anchors and heading tags.
Use the names of famous institutional bodies around you.
Embibe conversational keywords
People tend to search differently when they type versus when they use their voice. Typed search queries are shorter and hence conventionally websites competed for these keywords and shoved them in their content. Now, keyword stuffing is not entertained by search giants like Google. It is to be understood that optimizing for voice search will require unlearning age-old keyword techniques.
The key to scoring for voice rankings is to optimize your content with long-tail keywords yet keeping the content relevant and valuable to the reader. Voice search pertains to phrases starting with how, why, what, when, etc. The queries are more conversational-based. For instance, the query is, "Who was the first person to go to the Moon?" To optimize for this search phrase your content need to give descriptive details of the Apollo 11 mission, astronauts who went there, the life of Neil Armstrong or about the history of the moon missions, etc. In short, it has to naturally fall in your subject and give complete information pertaining to it.
Adding such keywords usually requires an amalgamation of content writing along with SEO. So, if you are aiming to optimize for voice search, look for a company with a squad of writers as well as SEO experts working in harmony to drive results. It is not a job of an individual, you require a professional team. Overall, content plays a significant role in SEO.
Also, read the blog: "Win the game of SEO with Content".
Leverage Meta
Taking the previous example, when a user asks, "Who was the first person to go to the Moon?", their device will read out the information on Neil Armstrong and the Apollo mission from a long detailed page. But, how does the search engine know from where to read these lines? It is the result of structure data, also known as Metadata or Schema Markup.
What is Metadata? It is the data about the information on the page for the web crawlers. This data is not readable to viewers.
People searching for local businesses tend to attain information like the working hours, location, contact numbers, reviews, etc. These details can be added to your schema to optimize for local searches. Further, most voice search content is extracted from featured snippets. Leveraging meta will help you appear in featured snippets and further in voice search results. For a non-professional, this learning meta can be a daunting task. Instead, hiring a specialized and top SEO company in Ahmedabad can manage these complicated tasks for you.
Mobile optimization
As mentioned earlier, 27% of global voice searches happen through mobile phones. Google has various signals that determine your website's mobile-friendliness. Modern SEO is a lot about delivering a great user experience. Ranking in mobile searches will also help you appear for voice searches. The strategies for Mobile SEO are complex and it is better to hire a company providing SEO services in India for indigenous businesses.
Get listed in Google My Business
 Lastly, as you already know, people search for business information like hours, location, etc., the best way to feed this information to Google is to enlist in Google My Business Listing. It will give complete information about your business niche, products you deal in, demographics, etc.
Summary
All the above-mentioned areas of voice search optimization are just a part of our heterogeneous techniques that we at AONE SEO services apply to help businesses appear in voice searches. Google ongoingly adds more languages to facilitate voice search for people in their daily lives. Keeping up with the trend is the crux of the matter for SEO success.