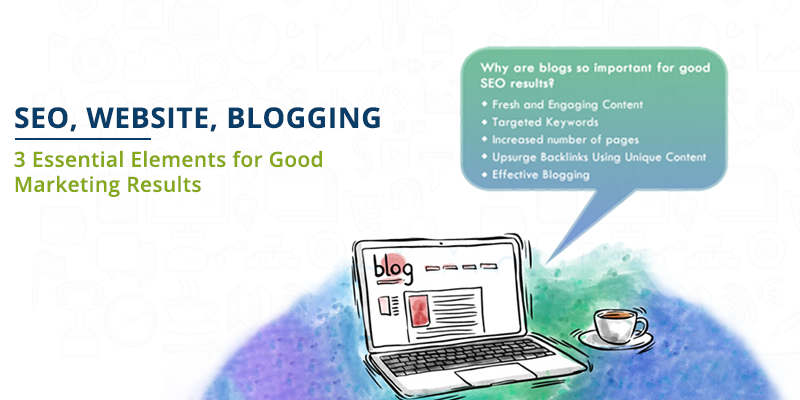 Digital marketing, especially for formal business cycle, rotates around creating 360-degree communication. This 360-degree communication to work well for your business, needs building content engagements with your target audience, so that they believe in you and your communication. Search engines observe this type of communication and engagements for Google rankings. And better rankings bring you more leads which ultimately grow your sales.
Quality blog content brings better engagements with a well-executed and consistent SEO tactics. This helps websites create better online traffic, bring leads and enhance company branding. When you repeatedly come up with an updated blog, you have an exceptional platform to create high value content. This will engage visitors on the website pages and upsurge the rankings.
Here's why blogs play an important role in building an effective SEO Strategy
1. Fresh and Engaging Content
The search engines want to offer best user experience for those searching queries. To execute it, they need engaging and fresh content on their websites. The services and product pages are not updated so frequently, however one can update its website with regularly published blogs. Search engines give fresh website updates more significance and consider that website would be offering healthier user experience to its customers.
2. Targeted Keywords
Keywords are the life of search engines. These phrases when used wisely bring great SEO results. However, some companies place these keywords unreasonably throughout the content thinking they would outrank their business competitors. This results in underdeveloped content turning off genuine readers and consequently the search engines. Intelligently placing keywords in website pages and blogs, using the vocabulary their target audiences are most likely to use while search brings better SEO results.
3. More Pages and having a Larger Website
Having a larger website has its own value. When you update your website blogs regularly, you will be up surging the number of pages which adds newer opportunities for keyword rankings, have better page rank and have more ways to engage the website visitors. Each website page that adds will increase your rankings and give you opportunities to be top ranked.
4. Upsurge Backlinks using Unique Content
When you create valued and High-Quality content you can promote website links. Google value Backlinks that are applicable and precise. Blogging makes it easy for organizations to repeatedly create high value content that helps users, which in return build authority in industry, tempting target audiences to connect.
5. Effective Blogging
Sustaining with consisting blogging is important. One needs to mix SEO with blogging to yield results. Optimizing keywords with blog content should be a part of your marketing strategy. One can connect with its target audiences with social sharing of blogs. Blogs can be internally linked and used as cross-reference with other content. We can conclude that combination of SEO, Website and Blogging activities is required to yield consistent results, Contact Us for Quality SEO Service to build your marketing and SEO strategy.